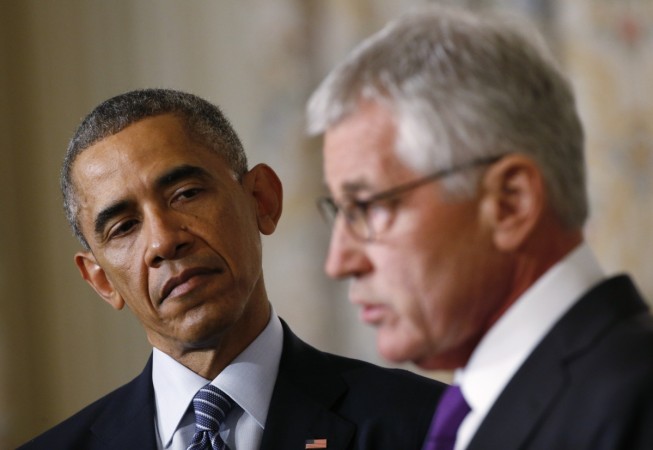 US Defence Secretary Chuck Hagel resigned on Monday after less than two years in office, reportedly under pressure from the Obama administration.
Hagel had been critical of US President Barack Obama's policies towards Syria and Afghanistan, reports suggested, and he was apparently frustrated with the "lack of US influence" in the face of the Islamic State, the Ukraine conflict, and revision of plans of withdrawing troops from Afghanistan.
"There's no question he was fired," a source told Reuters.
"He had privately expressed frustration to colleagues at the administration's strategy toward Iraq and Syria and at his lack of influence over the decision-making process", another source familiar with the situation said.
Hagel was 'forced out' by Obama, CNN reported.
"They're gonna say well it was time for a change and all that...but I can tell you he was in my office last week, he was very frustrated with a lack of strategy to combat ISIS, help the Ukrainians and a lack of U.S. influence...unknown in history," Senator John McCain said on a radio show, CNN reported.
The rise of the Islamic State is also said to have put Hagel on the back foot, and he had also questioned Obama's strategy of attacking ISIS militants in Syria without addressing Syrian President Bashar al-Assad.
"They chose Hagel for a job that just turned out to be very different than what was expected with the rise of ISIS," a former Obama national security aide told NBC News.
Hagel's departure could further lead to a stronger anti-Assad policy by the US, reports suggest.
Another reason reported behind Hagel's unceremonious exit was his apparent fall-out with National Security Adviser Susan Rice over the US' Syria policy, over which he had sent her an internal memo last month.
While Obama's move is being seen as an attempt to reaffirm his control on critical security issues in the face of the Republicans winning the mid-term polls, the latter were not too impressed by the third exit of a defence secretary in his tenure.
"The Obama administration is now in the market for their fourth secretary of defence. When the president goes through three secretaries, he should ask, 'Is it them, or is it me?' Representative Howard (Buck) McKeon, Republican of California, told The New York Times.
Among those who are probables to replace Hagel are Michèle Flournoy, who served as the under secretary of defense for policy from February 2009 to February 2012, Robert Work, the current deputy defense secretary, and Ashton Carter, who served as the Deputy Defence Secretary from October 2011 to December 2013.