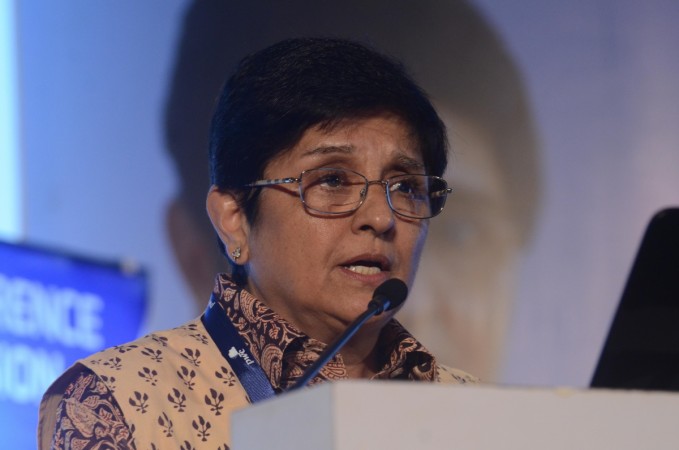 During an interview with NDTV's Ravish Kumar on 27 January, BJP's Delhi Chief Ministerial candidate Kiran Bedi not only tried to avoid his questions but also tried to run away.
During the interview, Bedi tried to avoid answering any question just after Kumar raised the first one, asking about her views on the statements made by some BJP and RSS members, including the comment that Hindu women should produce four to five children.
When Kumar asked whether a woman should produce four children or not, Bedi first replied in the negative but then quickly rectified saying it was the decision of the woman and her husband to decide whether they want four or 14 children.
Soon after replying to Kumar's question, Bedi started walking towards her car. The journalist asked her if Kiran Bedi indeed was the first IPS officer, but she did not reply to that.
Kumar continued chasing her and asked her who had towed former Prime Minister Indira Gandhi's car for wrong parking.
To this, Bedi - who was back then known as Crane Bedi – said it was retired ACP Nirmal Singh. Singh was then the Delhi Traffic Police Sub-Inspector and Bedi was DCP traffic. She told the anchor that when she was asked if she would take action against Singh, she had said that she would rather give him a prize for taking such a daring step.
However, her answer to Kumar contradicted her own statement that she had made in 2010 while participating in a programme at Bhopal School of Social Science. A student had asked about her "daring decision" to tow away the former PM's car, herself.
"I knew that I will be transferred when I decided to lift Indira Gandhi's car (for wrong parking). I gave a thought to it and decided to do what was right then," Bedi had said, according to an earlier PTI report.
She had even said that the consequence of taking that decision was that she was transferred to Goa. "Wahi hua jo sabke saath hota hai" (same thing happened which happens with all others). I was transferred to Goa the next day..." she had said.
In the second last question, Kumar asked her to comment on an article by journalist Karan Thapar, who had written that Bedi got her promotions towards the end of her career as she was negligent during her early days.
To this, Bedi said that if she had been negligent, she wouldn't have received the President's police medal for gallantry and Magsaysay award.
As she tried to get inside her car to leave for her constituency – Krishna Nagar - Kumar asked about the secrecy in the party funding; which led to Bedi losing her calm.
He asked if the RTI applicant will get the details of the funding and expenditure of the election campaign. But, Bedi's response was unclear and she appeared to be defending BJP saying the party funding is legal.
Throughout the interview, Bedi kept trying to avoid confronting Kumar's questions and became visibly upset with the journalist towards the end.