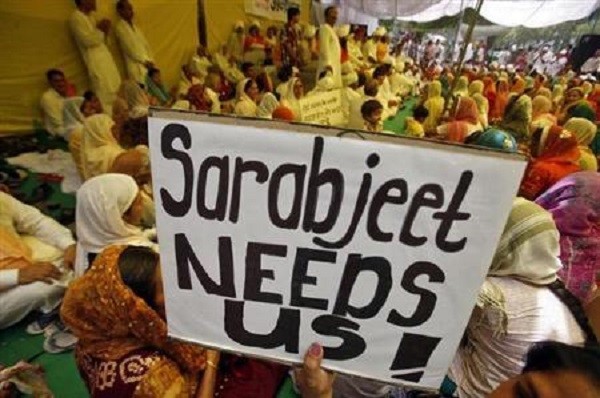 The attack on a Pakistani prisoner by an Indian inmate in Jammu's high-security Kot Balwal jail has sparked off speculation if it was carried out to avenge the death of Indian convict Sarabjit Singh.
On Friday morning, 54-year-old Sanaullah Haq was left in a coma after an Indian prisoner reportedly hit him on the head with a hammer. He is likely to be shifted to a hospital in Chandigarh for treatment.
Sanaullah has been imprisoned for more than 15 years in connection with terrorist activities.
The incident happened just a day after Sarabjit Singh died in Pakistan's Jinnah Hospital. The 49-year-old prisoner was admitted to the hospital on 26 April following a brutal assault by inmates in Lahore's Kot Lakhpat jail. He sustained several injuries, including serious blows to the skull.
The Pakistani High Commission has asked the Indian authorities to let its diplomats meet Sanaullah, and the government is said to be considering the request. The reason for the attack is not known but speculations are rife that it could be in retaliation to Sarabjit's death.
Following the assault on Sanaullah, the Jammu and Kashmir state government suspended the jail superintendent and ordered a probe into the incident. The Home Ministry also asked all the states to beef up security for Pakistani prisoners.
The death of Sarabjit, who was charged for the killing of 14 people in the 1990 bomb blasts in Pakistan, had raised concern about further security lapses in jails and the latest attack on the Pakistani prisoner heightened these fears.
Meanwhile, the mortal remains of Sarabjit was brought home on a special plane on Thursday evening and was accorded a 21-gun salute honour on Friday before being cremated at his ancestral village Bhikiwind. Several politicians including Congress Vice-President Rahul Gandhi and Punjab Chief Minister Parkash Singh attended the funeral.