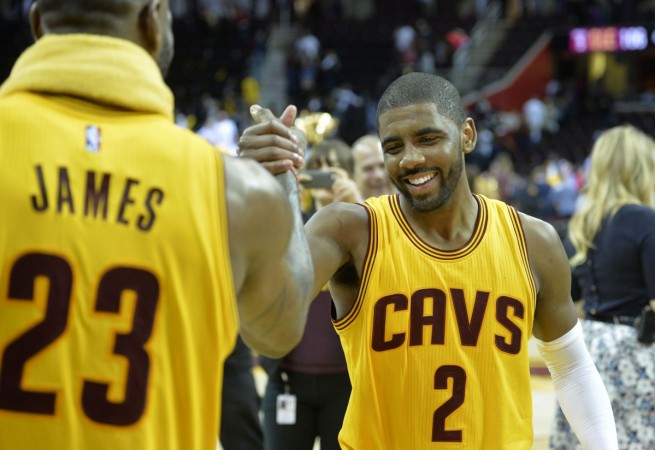 Two teams, Golden State Warriors and Cleveland Cavaliers, have deservedly earned their place for the NBA finals, as the two in-form teams will start their best of seven series final on 4 June.
The finals between the two is expected to be a close one with both teams having showed a lot of character and hunger to reach the finals. After having won their conference finals, they will want to sign off the season in the best manner possible, by winning the prestigious NBA title.
But, as it seems, Cavaliers' Kyrie Irving and Warriors' Klay Thompson participation in the game is still in doubt due to their respective injuries. Thompson suffered an injury when Warriors faced Houston Rockets in game 5 of the conference finals.
Trevor Ariza's knee hit Thompson on the head, as a result of which Thompson was given some medical tests in the locker room. The player came back to the court after doctors suggested that the player did not have any brain injury, but was later taken to the locker room for right ear laceration.
It was only on Friday that the doctors diagnosed the player with concussion, which kept his participation in the NBA finals game 1 in serious doubt. Though, there are reasons for Warriors fans to be happy with assistant coach Ron Adams stating the player might be ready.
"I think Klay will be ready," Mercury News quoted Adams as saying. "He looks good now. He looks bright-eyed, bushy-tailed and so on, but he has to go through the protocol, and that will be soon finished. I think he'll be there for us when the series starts, and we'll go from there."
NBA fans around the world will not only want Thompson to be fully fit, but also Irving, who has missed some games for Warriors after suffering from left knee tendinitis. But, the player has earlier played through with an injury in the series against Atlanta Hawks as well.
Though the player might not be in perfect shape for the finals, he is improving and Cavs coach David Blatt feels that the progress is slow.
With the prestigious NBA finals starting in a few days, Irving might once again play despite not being 100 precent. But, even a 60-70 percent fit Irving could prove to be a dangerous player.
James believes that Irving is preparing himself to play in game 1.
"Whatever we can get out of him," ESPN quoted James as saying. "I think he's preparing to play Game 1. Whatever we can get out of him is a plus for us. He's been dealing with injuries throughout the whole postseason. He's been getting some good work in, off to the side at times. He's played a little bit with us, but not much. So whatever we can get from Kyrie is a plus."