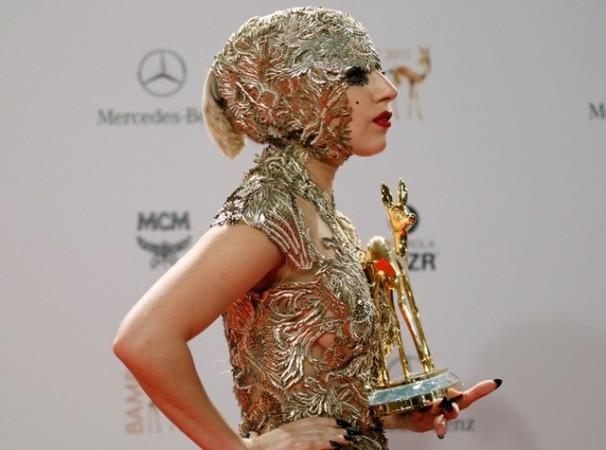 Lady Gaga suffered an embarrassing wardrobe malfunction on 23 June while trying to shield her eyes from camera flashes.
The singer, who was getting out from Amadeus Pizza restaurant in New York City on Tuesday, was dressed in an unbuttoned tan jacket that she wore over a pair of jean shorts. The "Bad Romance" hit-maker was bra-less, and her appearance soon attracted the attention of the paparazzi.
However, when she attempted to cover her eyes from camera, her jacket moved away, thereby flashing her nipples.
Reportedly, the day started out normal for Gaga, who was seen wearing the same attire, but with a bra, during an intimate concert at the Rainbow Room. She later posed with fans and gave photographers an opportunity to capture her on camera by popping up through the car's sunroof as she was driven away.
Interestingly, Gaga is no stranger to wardrobe malfunctions. On a number of occasions she has unknowingly flashed skin, for which her weird dressing sense has been blamed.
In 2013, she opened up to Glamour about her crazy costumes saying it was one way to hide her insecurities.
"I would say that I am [insecure]. Maybe it's from the things I experienced in my past, you know? Being beautiful is not so fun when you're in a business with all men," she said, according to TooFab.
"It can actually get in the way. So in some ways, the outfits—these creations are because I don't want to face the reality of what people want from a female pop star. Everybody always laughs because I feel so much more comfortable with, like, a giant paper bag on my whole body and paint on my face. Sometimes I try really hard to take it all off. But inevitably what's underneath is still not a straight edge. And I don't think it ever will be," she added.