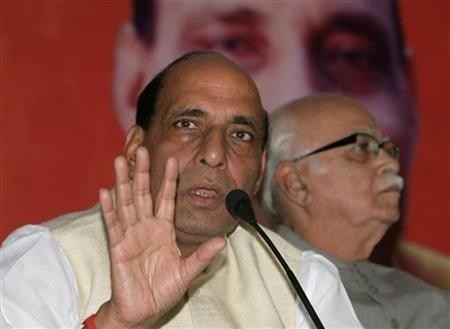 Another 'war of words' has begun after BJP President Rajnath Singh expressed discontent about the English language degrading Indian culture and leading to a loss of tradition.
"English language has caused a great lot of loss to India. We have started forgetting our religion and culture these days. There are only 14,000 people left in this country speaking in Sanskrit. Knowledge acquired out of English is not harmful but the Anglicization penetrated into youths in this country is dangerous," the former Uttar Pradesh chief minister said at an event in Delhi on Thursday.
His comment spurred reactions from the Congress, with Union I&B minister and party leader Manish Tewari tweeting, "Paradox- BJP outsources Vison document to anglesiced policywonks while ranting English caused great loss to India- Hypocracy or Medivalism ?" without taking Rajnath's name directly.
BJP Vice President Mukhtar Abbas Naqvi came in defence of Rajnath's remark saying, "We outsource English reader not leader like some. Manish Tewari should understand that," he told ANI.
While BJP is planning steps to woo the voters, especially the youth among whom English is most popular, Rajnath's comment could hurt their sentiment.
The party held its parliamentary board meeting in Delhi on Thursday where it decided to set up more than 10 sub-committees to handle the 2014 Lok Sabha elections. Gujarat Chief Minister Narendra Modi who is also the election campaign chief for the BJP had decided the framework of the committees along with Rajnath.
A clear announcement of the number and the heads of the committees are likely to be announced on Friday (19 July).
Every senior party leader like Arun Jaitley, Sushma Swaraj, Nitin Gadkari will be given some campaign responsibility.
The board also discussed about the issues BJP will take up in Parliament when the monsoon session begins on 5 August. BJP sources told reporters that the party will press for amendments in the Food Security Ordinance. Also, the party is likely to oppose the Centre's decision to allow more FDI in various sectors.