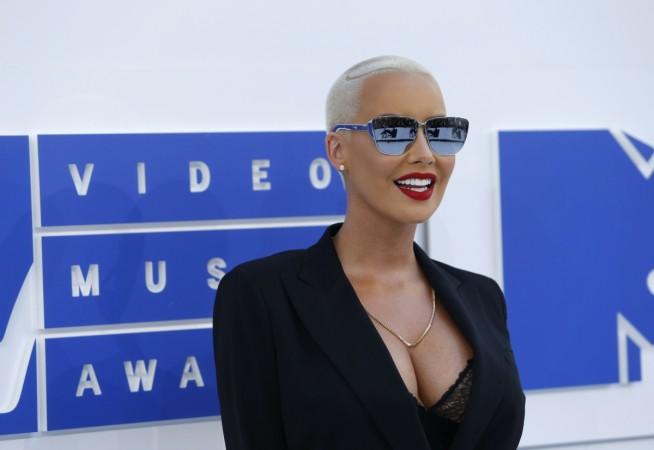 Amber Rose is crediting Dancing with the Stars for helping her lose weight. Rose, who is a contestant on Seaon 23 of the dancing reality show, recently revealed that she may have lost up to 10 pounds since joining the show.
"I feel like I'm getting super toned," the 32-year-old mother revealed on her Loveline With Amber Rose podcast on Play.it podcast on Thursday. "I feel like I've lost probably 10 pounds, maybe 8 pounds already. It's serious." The mother of one opened up about her gruelling training saying she is with her dancing partner for close to five hours a day. "People don't understand how much work goes into it," she said.
Talking about partnering with Maksim Chmerkovskiy, Rose said she was having the time of her life on the reality show. But things sometimes get a tad bit uncomfortable when Chmerkovskiy's pregnant fiancée Peta Murgatroyd comes on the set to help them fine-tune their moves.
"It does become awkward when she's at the rehearsal and she's like, 'Listen, vagina and balls, they need to touch or you're not doing it right,'" Rose admitted. "I'm like, 'Uh, this is your fiancé! This is weird! But it's all for the greater good of dancing, I guess. That's how it is."
The previous week saw Rose in the bottom with Jake T. Austin, Maureen McCormick and Ryan Lochte, and comments from viewers haven't been so kind. "For her to be a former exotic dancer, she has absolutely no rhythm whatsoever," noted one viewer in the official Facebook page of Dancing with the Stars. "I can understand being on the show can feel overwhelming and make you nervous but she doesn't seem able to "feel" when she dances, she's just robotic," another added.
Dancing with the Stars airs Mondays and Tuesdays on ABC.