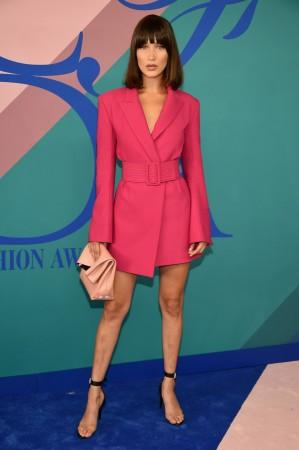 Victoria's Secret model Bella Hadid loves to flaunt her body on social media at every opportunity she gets. And why wouldn't she, when she works hard to maintain a healthy figure that seems to be devoid of even an ounce of cellulite?
Hadid recently opened up to E!News about the hard work she puts into maintaining her body and revealed that she works out for at least two hours whenever she hits the gym. "When I work out I love to work out. I train and I work out hard for two hours," she told the media outlet.
Also read: Tony Awards 2017: House of Cards star Kevin Spacey really goes after Donald Trump as he impersonates Bill Clinton [VIDEO]
However, one activity we won't find Hadid doing is yoga. "I don't like to do the whole yoga thing. I think yoga is calming and it's amazing, but if I am going to go for it I am going to go hard," she revealed.
Before a major fashion event such as the Victoria's Secret Fashion Show, Hadid stays in the gym for almost three hours. Last year she told People that she ended up losing a lot of weight due to her strict workout regime before the fashion event.
Find below a video of Hadid working out:
"I worked out so hard and everybody is like, 'Oh she looks so skinny blah, blah, blah," the model told People. "But I think that if you just stick to something you can really achieve so much. I've been eating hard protein every day, and working out for three hours every day. It's crazy but I think that you know if you set your mind to something I think you can succeed."
Hadid is also a big fan of junk food, and Instagram page is proof of her love for pizzas and other fast food. Check out some of the pictures below: