While students, batch after batch, slog day and night to crack the SATs and score high points to get into an Ivy League school, some apparently – apart from doing the above – also talk about their love for pizza. That is exactly what Carolina Williams seems to have done to get accepted into Yale University, New Haven, Connecticut.
When Williams from Brentwood, Tennessee, found out that her application included a 200-word essay on something she loves to do, all she could think about was her love for ordering a Papa John's pizza. While she initially thought that she couldn't write an essay on it to apply to Yale, Williams eventually did so and it worked out perfectly for her.
"As soon as I saw the prompt that said write about what you love to do, that was the literally the first thing that came to mind because I just love to order pizza so much," Williams told AL.com.
Not many Ivy League schools would probably accept a student who wrote an essay on pizza, but Williams' reviewer at Yale seems to be impressed with her essay. Not just that, the admissions officer at the university also wrote a personal note to her, telling her how thrilled he was to read her essay and that Yale would be glad to have her.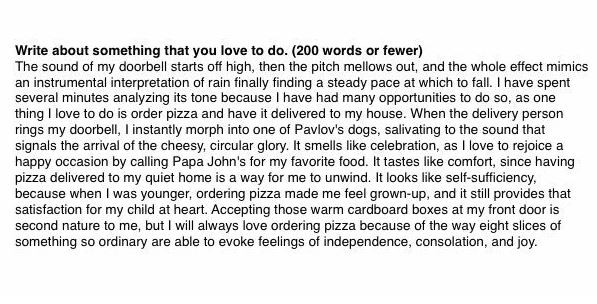 "As a fellow lover of pizza, I laughed out loud (then ordered pizza) after reading your application. Yale would be lucky to have you," a part of the note read.
However, what might come as a shock to many is that Williams has turned down the offer to go to Yale and has instead opted for Auburn University in Alabama. "As soon as I came to Auburn, I loved it immediately. I loved how friendly everyone was there. Everyone had so much school spirit. They're so passionate about Auburn itself. I've never met a person who went to Auburn that didn't like it there and I thought that spoke a lot," she told the website.
"I chose Auburn because I love the South and I love the whole school spirit there," Williams, who plans to major in business, added. "Yale is a great school but Auburn just felt like home to me."
And what adds to her joy? The university has Papa John's on campus.