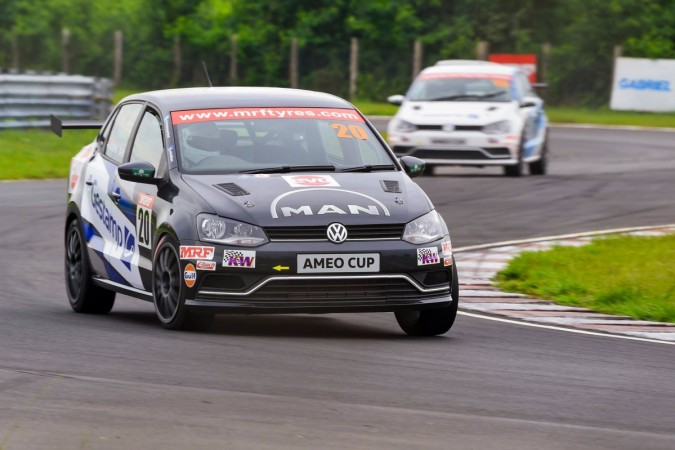 Does driving a car very fast excites you? Ever thought of becoming a driver? Here is your chance. Volkswagen Motorsport India has commenced registrations for the 9th edition of its one-make racing series. Christened as Ameo Cup, the race series will be hosted as part of the MMSC-FMSCI Indian National Racing Championship.
The 2018 edition of the Ameo Cup will participants racing each other in premier race tracks of the country like Madras Motor Race Track near Chennai, Kari Motor Speedway near Coimbatore and India's only F1 racetrack, the Buddh International Circuit in Greater Noida.
The format of the Volkswagen Ameo Cup 2018 will remain the same as the recently concluded Volkswagen Ameo Cup 2017 series. The drivers applying for the 2018 season will be put through special Drivers' selection round to be held at the Indi Karting Track in Kharadi, Pune on 27th and 28th January this year. The format of the Volkswagen Ameo Cup will have a grid of around 20 equally prepared machines and 10 races scheduled across the year.
"Volkswagen Ameo Cup is a one of a kind professional track racing series for amateurs and aspiring racing drivers. Currently, in its 9th year, Volkswagen has stayed committed in its efforts to promote Motorsport in India and will continue to do so going forward. The last 8 years have seen remarkable progress in terms of infrastructure, development and technology, and this progress will help make the Volkswagen Ameo Cup 2018 a season to remember," said Sirish Vissa, Head of Volkswagen Motorsport India.
All interested and budding racers can fill out the registration form available at https://docs.google.com/forms/d/e/1FAIpQLSfp-FPoNOnnstQDmwM3hSJXO239wTwzoAWGchBjpJ9ZJ_4AWA/view form and follow the application process given on the website to be eligible for the evaluation process.