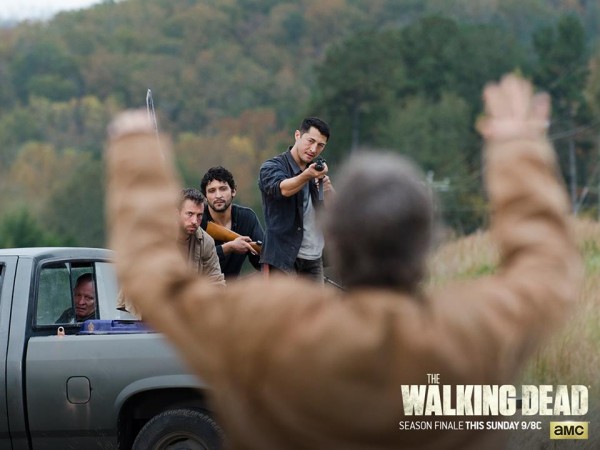 Season 6 of "The Walking Dead" will come to an end Sunday, April 3, with the episode "Last Day on Earth," which will introduce fans of the AMC series to Negan, the leader of the Saviors, a notorious group of survivors.
The events that take place in the season 6 finale will set the tone for Season 7, revealed Robert Kirkman in a chat with HollywoodLife. "I don't know I think we are getting to the cool stuff! Everything in season six sets up all the insane stuff that will happen in season seven," he shared."I think that the show is changing and evolving at such a rapid pace now that it is getting really exciting for me. It is unique for a show to get to the good stuff in the sixth and seventh season and I feel like that is what we are doing! And I am excited about that!"
After the Season 6 finale, the show will go on a long hiatus, and the first episode of Season 7 is expected to air sometime in October or early November 2016.
So what can we expect in the next instalment of the zombie apocalypse drama?
The penultimate episode of Season 6 titled "East" gave fans a hint at what is to come when Rick and Morgan encountered a man searching for his horse. Those familiar with Robert Kirkman's "The Walking Dead" comics would have rightly guessed that the man belonged to The Kingdom, another community of survivors based in Washington D.C. It is considered the second largest community after the Hilltop Colony.
The Kingdom is located on the grounds of a high school and its perimeter is marked by a wall of school buses and metal sheets. The community is headed by a character named Ezekiel and he has a pet tiger named Shiva. However, it is not immediately known if Ezekiel will have a tiger when it is finally adapted to television.
In the comics, Ezekiel and The Kingdom will play an important role in eventually taking down Negan.
"The Walking Dead" airs Sundays on AMC.