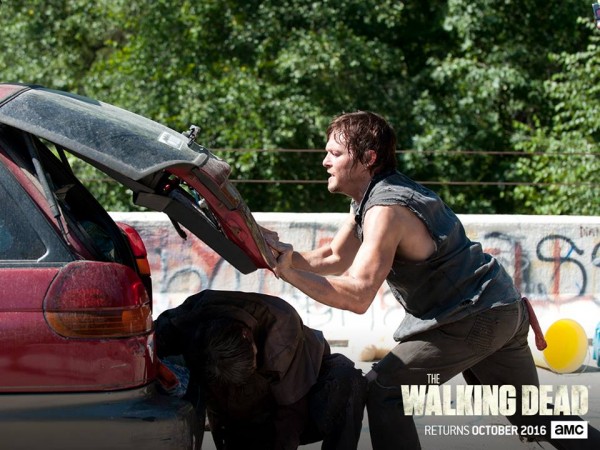 "The Walking Dead" is currently filming Season 7 episode 5 and it looks like the AMC zombie apocalypse drama is staying true to its source material, Robert Kirkman's comics of the same name.
The Spoiling Dead Fans, the trusted spoiler forum for anything and everything related to "The Walking Dead," recently uploaded pictures from Season 7 and one picture shows Andrew Lincoln's Rick carrying around Lucille, Negan's weapon.
As readers of Kirkman's comics know, a similar situation plays out in the book too, when Negan and the Saviors come to Alexandria Safe-Zone to claim half of all the resources. "We do have some pictures that were taken on Monday, June 13. They were filming in one of the townhouses in Alexandria," the spoiler forum noted. "They filmed scenes where the characters exited the house. Rick especially seemed visibly upset. Based on reports, this appears to be part of a scene where Negan and his men are plundering ASZ and taking their "half". Rick was seen carrying around Lucille which is also consistent with scenes from the comics."
The Spoiling Dead Fans has also put up a list of characters who have been spotted on set and the absence of certain names have caused concern. Carl, Rick, Daryl, Father Gabriel, Aaron, Enid, Eugene, Olivia, Negan, and Dwight were all seen at one point or other. There is also no definite proof on who dies at the end of Season 6 finale. In the books, it's Glenn who is Negan's victim, but executive producer Greg Nicotero recently revealed that the show won't mirror the source material.
"I don't think we would be doing the material justice if we just regurgitated it word for word," Nicotero says to DigitalSpy. "There are iconic moments, and there are things that we will pay tribute to, and even if we don't do it exactly the same way that we find it in the comic book, we will find a way for fans of the graphic novel to feel like they are getting their money's worth."
"The Walking Dead" will return to AMC in October.