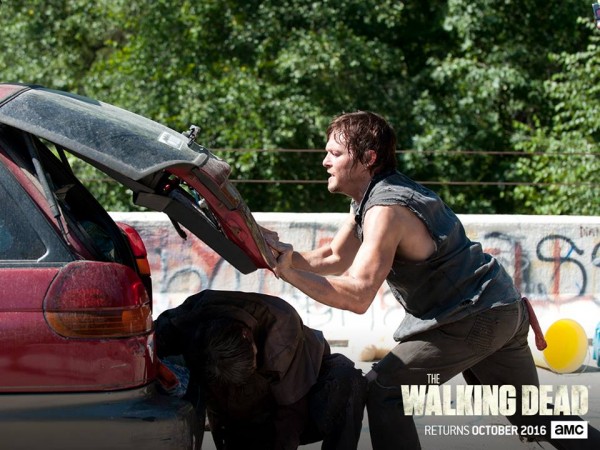 Filming for Season 7 of "The Walking Dead" is currently under way, and according to spoiler forum The Spoiling Dead Fans, episode 3 will feature Ezekiel and his faithful pet tiger, Shiva. However, it is not immediately known who has been cast as Ezekiel.
"As for Shiva, it's unclear how much of the giant kitty we'll actually see, but she's here! Rumor has it that she'll be a mix of animatronics and CGI," The Spoiling Dead Fans noted.
As fans of Robert Kirkman's "The Walking Dead" comics know, Ezekiel is the leader of yet another group of survivors and their settlement is called The Kingdom. Fans of the AMC series saw a brief glimpse of a member of The Kingdom in the penultimate episode of Season 6 when Rick and Morgan ran into a man trying to track down his horse. The unidentified person was wearing a self-made armor, something that's seen in most residents of The Kingdom. In the comics, The Kingdom and its inhabitants play a major role in taking down Negan.
Meanwhile, there is still no clarity on who died in the Season 6 finale of the zombie apocalypse drama. In Kirkman's comics, Glenn is the unfortunate victim, but rumours are rife that the television series will diverge from its source material and kill off another fan-favourite. And according to Norman Reedus, who plays Daryl Dixon, the reveal is worth the wait.
"I think probably the planet is going to explode. That's my feeling. It's so good," Reedus said on Entertainment Weekly Radio. "Every time we go on a promotional tour talking about what's going to come, we all say 'Oh my God, it's amazing. I can't wait for you to see it.' But it continually surprises me how this show grows and is put together and the execution of it—no pun intended. It blows my mind. It just continually reaches a new plateau every single time, and this is the highest plateau we've ever been. So just wait. It's worth the wait, trust me."
"The Walking Dead" will return to AMC in October.