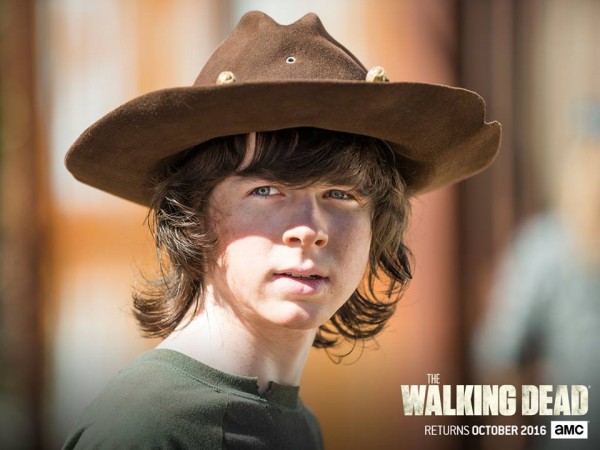 The focus is back on Rick's gang of survivors in this Sunday's episode of The Walking Dead. We last saw Carl and Jesus hopping onto a truck to find out more about Negan's community The Sanctuary, and this week's episode will reveal if they actually make it to the community.
Warning: This post contains spoilers from the upcoming episode of The Walking Dead.
TSDF Army, The Walking Dead spoiler forum, has revealed a few key points from the episode titled Sing Me a Song, and it seems only Carl will meet Negan. As they approach The Sanctuary, Jesus suggests that they both jump out to get a better look at the community. "Carl pretends to be hesitant and gets Jesus to jump out first. After Jesus jumps, Carl waves goodbye and continues on in the truck. Then he finds a box of weapons," noted TSDF Army.
As to how Negan will react to Carl's arrival, the spoiler forum revealed that the villain will be intrigued by the visitor, and he will give Carl a tour of The Sanctuary. Carl will also come face-to-face with Negan's harm, but it looks like he will be unable to do anything to save Norman Reedus' Daryl, who is still a prisoner.
Negan and Carl's interaction is similar to what happens in Robert Kirkman's The Walking Dead comics, and the villain will even personally escort Carl back to Alexandria Safe Zone. "After Negan personally delivers Carl back home, Negan makes Carl take him on an awkward tour of his house," TSDF Army noted. "Negan finds Judith in her crib and picks her up. They are all on the front porch sipping lemonade and Judith is sitting on Negan's lap when Rosita, Eugene and Spencer roll back into the ASZ."
The Walking Dead airs Sundays on AMC.