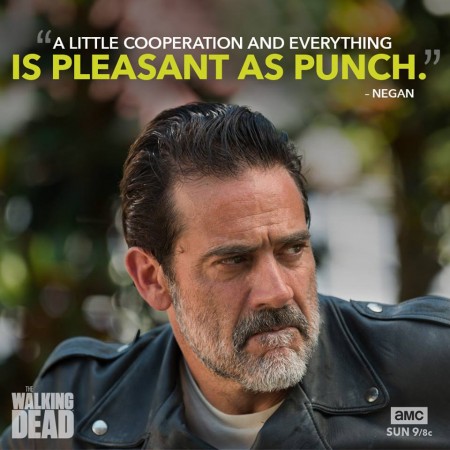 The fifth episode of Season 7 of The Walking Dead is going to focus on the Hilltop community, where Maggie is currently being taken care of. The episode will see Negan's men arriving in Hilltop and causing trouble just to prove that they are in charge.
Warning: This post contains spoilers from the upcoming episode of The Walking Dead.
TSDF Army, the spoiler forum that posts weekly updates on what to expect in The Walking Dead, has released information on what fans can expect in the upcoming episode, and it looks like Maggie, who is pregnant, isn't doing too well.
Maggie lost her husband in the Season 7 premiere, and speculations are rife that she will lose her baby as well. But according to the TSDF Army, both Maggie and her baby will survive.
"The baby is fine," the spoiler forum noted. "What had happened was a small portion of the placenta had separated from the uterine wall. It can be painful but not life-threatening. Dr. Carson says she and the baby will be fine, but she needs to rest for a few days."
The synopsis for the episode titled Go Getters reads: "Surrounded by enemies and saddled with grief, members of the group hope to find safety at the Hilltop before it's too late."
Meanwhile, The Walking Dead showrunner Scott Gimple recently opened up to Comicbook.com about the Morse Code theory that has been doing the rounds ever since Service aired last Sunday. According to this theory Daryl Dixon, who arrives in Alexandria as a captive of Negan's, seemingly blinks intermittently to Rick to notify him of the location of the Savior's compounds.
"I heard about this on set yesterday," said Gimple. "I would like to live in a world where Daryl Dixon residuously learns morse code and knows that Rick has an intimate knowledge of morse code, as well, and that they have practiced this with blinks. I would love that."
The Walking Dead airs Sundays on AMC.