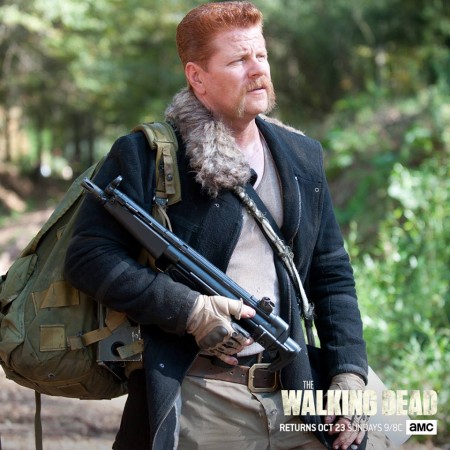 The final scene in The Walking Dead Season 6 finale has been analysed a number of times to find out who Negan kills. While Steven Yeun's Glenn is the popular choice, considering Maggie's better half meets a similar fate in The Walking Dead comics, there have also been murmurs of Abraham meeting a similar fate.
What prompted this speculation is that Michael Cudlitz, the actor who plays Abraham, has reportedly been spotted in conventions without his red hair. These death rumours further gained traction when spoiler forum The Spoiling Dead Fans revealed that Cudlitz was spotted on location only for filming of the first episode.
However, Cudlitz's various interviews gives the impression that Season 7 will be an interesting one for the character. "Abraham will continue for a while now," Cudlitz told TVGuide in August, adding that his character and Negan exist at the same time. While this means that Abraham isn't the one who Negan kills, many are of the opinion that Cudlitz was lying to keep the mystery of Negan's victim intact.
In a more recent interview with the media outlet, Cudlitz said a lot of intense stuff happens as the season progresses.
"There's a whole bunch of other stuff that's gonna go down as the season progresses, and it's intense," he says. "I would say they shouldn't really be so much worried about the first episode as the rest of the season."
AMC's The Walking Dead Season 7 will air on October 23. The series is based on Robert Kirkman's comics of the same name.