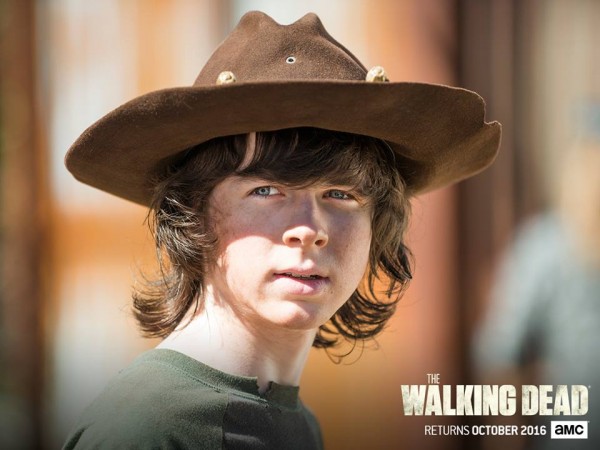 Season 7 of "The Walking Dead" has reportedly cast two new characters who do not seem to have a counterpart in Robert Kirkman's comic book series, which is the source material for the AMC show.
According to TV Line's Michael Ausiello, Naomi is a grandmotherly type who has lost a number of loved ones in the zombie apocalypse. She has toughened up over the years and is now willing to do whatever it takes to prevent more loved ones from dying. The second character is named Jennie, who is "kind, with a world-weary toughness."
These two characters will be introduced in the sixth episode of Season 7, and speculations are rife that they may be residents of The Kingdom, yet another community of survivors who will help Rick take down Negan. Jennie could be a potential love interest for Carl, but it is too soon to say what's in store for Rick's son.
Additional information will probably be revealed at the San Diego Comic Con in mid-July. If not, The Spoiling Dead Fans is sure to reveal what's in store for the duo in the coming episode. On Tuesday, the spoiler forum revealed that the show was filming episode 5 and the cast and crew were back at the studio to shoot scenes pertaining to Hilltop colony.
Updating fans on "The Walking Dead" Season 7 filming progress, The Spoiling Dead Fans noted:
One filming unit was at Old Greenville Rd. It's believed that this was continued filming of episode 3. Morgan and Carol were rumored to be on set. Several horses and Kingdom people were sighted.
There was some brief filming over on Crook Rd. Carl and Enid were rumored to be filming at this location.
There was also filming at the studio yesterday. Steven Ogg (Savior from the season 6 finale) has been sighted around the studio. It's rumored that he was filming at the Hilltop. Gregory was also supposedly filming yesterday as well.
"The Walking Dead" will return to AMC in October.