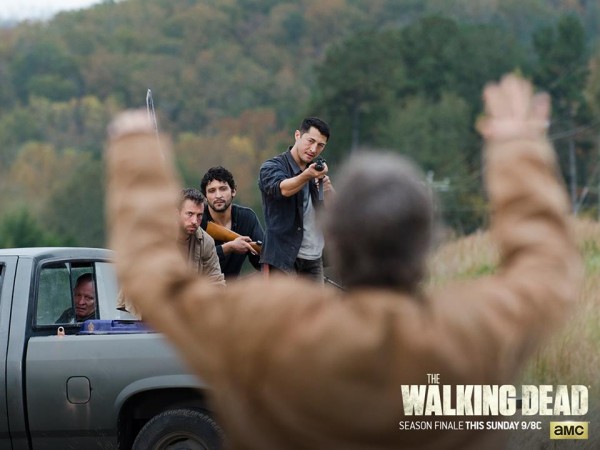 Season 6 of "The Walking Dead" wound up Sunday with the episode "Last Day on Earth," and understandably, fans aren't too happy with how the episode ended.
Warning: This article contains spoilers from Season 6 episode 16 "Last Day on Earth."
As predicted, the finale had a massive cliffhanger that saw Negan, the leader of the Saviors, swinging his bat Lucille and killing someone. Although it's guaranteed that someone from Rick's gang lost his/her life, the episode did not reveal the identity of Negan's victim. Now fans will have to wait till Fall to find out who was unfortunate enough to have a date with Lucille, Negan's barbed wire wrapped baseball bat.
Frustrated at the long wait, a good number of viewers have taken to social media to troll executive producer Scott M. Gimple. Here are few gems from Twitter.
I wouldn't be surprised if more Americans hated @ScottMGimple than ISIS right now #TWDfinale

— '94 & Nevermore (@CorySchneids35) April 4, 2016
The only acceptable answer for who catches the wrong end of Lucille is @ScottMGimple. #TWDFinale — Ann (@Ann_Tagonist_) April 4, 2016
I'm so glad scott gimple gets to go to bed somewhere tonight warm & cozy knowing he personally shat on me for an hour & a half #TWDFinale

— FN-2187 (@illvminatii) April 4, 2016
Don't worry guys, the only one who died tonight was my desire to watch #TheWalkingDead anymore. Way to blow it @AMC_TV and @ScottMGimple — Matt Brown (@MattIsTacos) April 4, 2016
In a chat with Entertainment Weekly, Gimple justified ending the episode on a cliffhanger, saying who gets killed is going to kick-start yet another interesting story. "The end of the story is what people saw," he told EW. "And when we reveal who was on the receiving end there, that's going to be the start of another story. The kickback effects from that, what it makes everyone into, how people react, how the world changes for everyone, that's the next part of the story."
He also added that he wanted fans to feel the suspense and terror, and promised that next season will justify the long wait.
Robert Kirkman, whose The Walking Dead comics is the source material for the AMC television series, also echoed similar sentiments, saying the next season will be about who Negan killed. He noted that the main story of the finale episode was how Rick, who has been underestimating the enemy for so long, has finally had a change in his mindset.