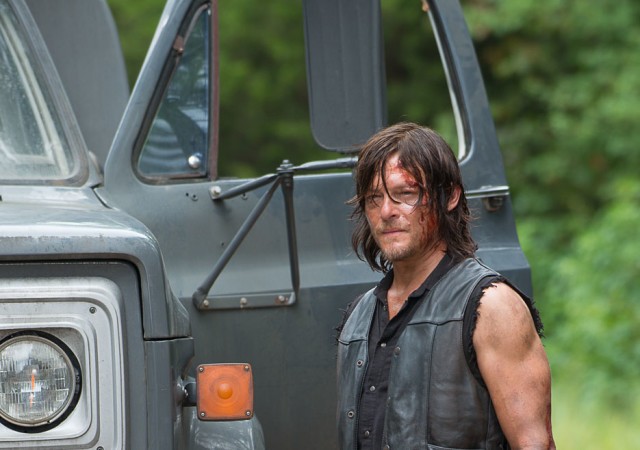 "The Walking Dead" Season 6 is all set to return from its long midseason break, this Sunday. Finally, the wait comes to an end as AMC will air the season's Episode 9, "No Way Out," on Feb. 14, 2016. The zombie drama went on a hiatus after airing Episode 8, "Start to Finish," on Nov. 29, 2015, and fans have been since left waiting and speculating about the future of their favourite characters. And now, the official synopsis of the upcoming episode hints at "fatal consequences."
CLICK HERE to watch "The Walking Dead" Season 6 Episode 9 live online. Or CLICK HERE to watch "No Way Out" later online.
Before going for a break, the midseason finale showed how almost every character's life was at stake. While Alexandria was invaded by the horde of walkers, Rick, Michonne, Carl, Fr. Gabriel and Deanna were trapped in Jessie's house and discovered that Deanna had been bitten.
The end of Episode 8 and the post-credit scene was the biggest teaser. It showed Daryl, Abraham and Sasha getting captured by the armed group of Saviors, who hinted at the return of Negan.
The midseason premiere will take it forward from where "Start to Finish" left. Recently, the first four minutes of the upcoming Episode 9 was leaked and it showed the Savior elaborating on their introduction, while mentioning Negan's name. The biker gang then pull out their guns at the trio and one of them takes Daryl away from Sasha and Abraham.
Meanwhile, in an interview with Entertainment Weekly, actor Andrew Lincoln has said that something will happen and Rick will learn something about himself. "We do realise very quickly in the returning episode that it's almost like the end of a chapter. Something happens. Rick learns a lot about himself in this episode," he said.
He also hinted that things will move real fast in the upcoming episodes, leading up to the finale. "What I will say is that the pace quickens a lot in the back eight. It jumps up a gear, maybe two gears, and we move very, very quickly. A lot of things happen in quick succession that propel us towards a very thrilling finale," he shared.
Synopsis of Episode 9, "No Way Out" reads: "While trying to escape Alexandria, Rick and his group meet trouble when sudden noise draws walkers towards them with what could be fatal consequences."
"The Walking Dead" Season 6 Episode 9 titled "No Way Out" will be aired on Sunday, Feb. 14, 2016, at 9 p.m. on AMC.