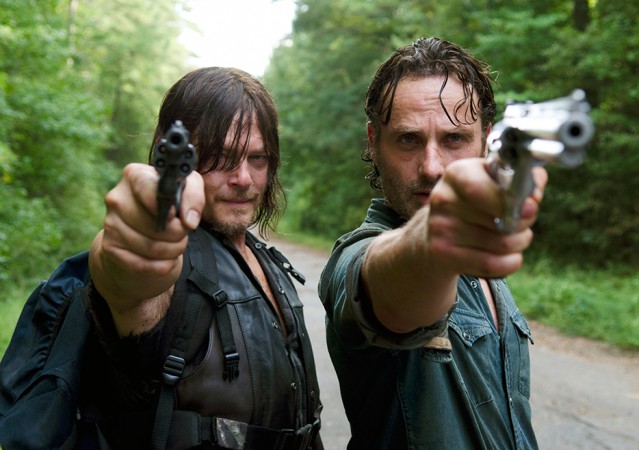 The season finale of "The Walking Dead" Season 6 is fast approaching and fans of the show are eagerly awaiting the introduction of Negan, said to be one of the most notorious villains to come out of Robert Kirkman's "The Walking Dead" comics.
Those who follow the comic series know that the introduction of Negan will result in the death of Glenn , who gets beaten to pulp with the villain's barbed wire wound baseball bat. Shortly before that, the core group will lose yet another member – Abraham, who will be shot dead with a crossbow by Dwight.
Besides these two deaths, rumours swirling around state that the future of one more character could be in trouble once Negan appears. A good number of fans believe it could either be Carol or Daryl, as both of them are fan favourites.
Meanwhile, another name that keeps popping up is that of Maggie's, as this would be yet another unexpected death. Killing a pregnant Maggie in front of Glenn could be an interesting scenario, pointed out a section of fans.
Talking about the finale, actor Andrew Lincoln, who plays Rick Grimes on the AMC show, told The Wrap in November that Season 6 will end with a bang.
"We just wrapped 24 hours ago on what I think is the darkest and most extraordinary season finale that we've ever attempted," he said. "To say that I'm excited would be a vast understatement. And it ends with a very big bang."
Meanwhile, Spoilertv has obtained the summaries for the next two episodes, which states that the future of Alexandria Safe Zone could be in jeopardy.
Episode 14 - Twice as Far
Two separate groups leave Alexandria for supplies, and while both worry over the future of the community, they will face immediate danger.
Episode 15 - East
When someone goes missing in Alexandria, the community goes on alert, and search parties venture out.
"The Walking Dead" is aired Sundays on AMC.