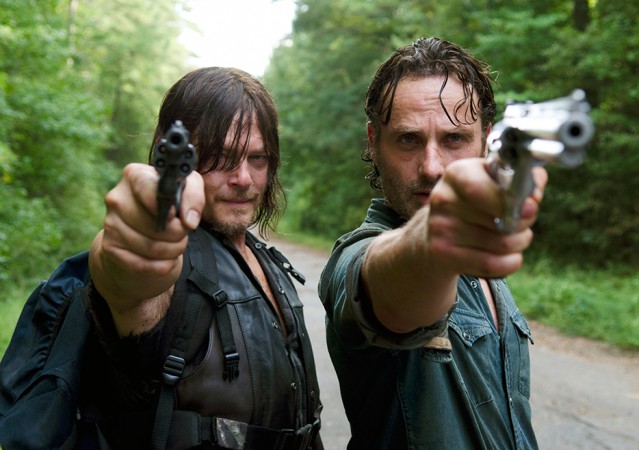 "The Walking Dead" Season 6, as promised by the showrunners, is getting really intense. The series returned for its second half with an action-packed midseason premiere Episode 9, last week. While "No Way Out" set grounds for Negan's arrival, Episode 10, "The Next World," will witness the debut of a key character from the comics.
CLICK HERE to watch "The Walking Dead" Season 6 Episode 10 live online. Or CLICK HERE to watch "The Next World" later online.
In Episode 10, fans can expect a lot of fast-paced action. Thanks to The Spoiling Dead Fans, a bunch of spoilers and speculations are doing the rounds on the internet, and it surely looks like "The Next World" has a lot in store for its viewers.
While the synopsis and the promo don't give a lot of details about what to expect in Episode 10, the fan page, which has more often proved to be a reliable source of information, has predicted some interesting events that will feature in this Sunday's episode.
According to this page, the episode will feature three major storylines. The main plot will revolve around Rick and Daryl, who will meet Paul Monroe aka Jesus at a gas station while they are on a scavenging run. Jesus, as you may know, is the key character from the comics and he will be making his live-action debut in this upcoming episode.
The second storyline involves Michonne and Spencer and Carl and Enid, who are roaming through the woods and there they meet a main character who has turned onto a walker and it is none other than Deanne, who succumbed to her bite and died in midseason finale.
But the third and most interesting angle, according to the fan page, will appear at the end of the episode and will show how Rick and Michonne end up having sex.
Official synopsis of Episode 10, "The Next World" reads: "A seemingly simple scavenging run proves to be very tricky when our group isn't the only one vying for an unexpected supply goldmine."
"The Walking Dead" Season 6 Episode10 titled "The Next World" will be aired on Sunday, Feb. 21, 2016, at 9 p.m. on AMC.