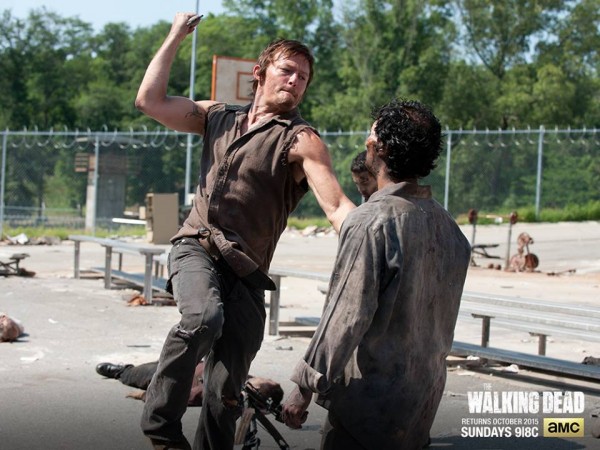 Season 6 of "The Walking Dead" is currently in production, and photos from the set have managed to put to rest a few rumours regarding the deaths of two key characters.
The AMC drama, which is about a group of survivors trying to stay alive in the post-apocalyptic world, has not shied away from killing fan-favourite characters in the past. Therefore, it shocked fans when recent reports stated that Norman Reedus' Daryl will die in the upcoming season.
Reedus' apparent absence on filming location was one reason why rumours of Daryl's death regained traction. But fans have been predicting his death for a long time, as Daryl is a television exclusive character who does not have a counterpart in "The Walking Dead" comics. This makes it hard for fans of the comic book series by Robert Kirkman to predict Daryl's storyline.
Meanwhile, another person who has been courting death rumours is Michonne, the character essayed by Danai Gurira. Similar to Reedus, Gurira's apparent absence on the set is what sparked rumours that she too has bid adieu. But The Spoiling Dead Fans, the spoiler forum that has all the intel on "The Walking Dead," has helped debunk these rumours by releasing photos of the actors in action.
"We've seen a couple of online articles today inferring that perhaps Michonne has been killed off due to our lack of mentioning her name in our set reports," the spoiler forum wrote on 22 May. "One or two of the articles are a bit misleading in what they claim we have stated. To clarify, we made no such statement and as of Tuesday (5/19/15), as this photo by Carolyn Beggs (via Drew Oglesby) shows, Michonne is alive and well."
Season 6 of "The Walking Dead" premieres in October, and the season will see the group of survivors in Alexandria Safe Zone battling a new enemy – the Wolves.
The Wolves were first introduced in season 5 and the last we saw of them, it was hinted they were gearing up to attack Alexandria Safe Zone in season 6.