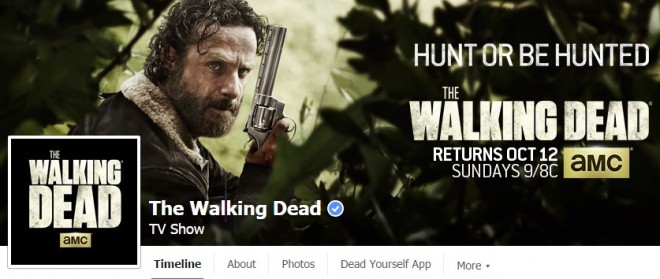 "The Walking Dead" returns for a fifth season on Sunday, and fans will finally be able to find out the fate of Rick Grimes (Andrew Lincoln) and gang, who were locked up in a train car in Terminus when season four ended.
While spoilers for the show have revealed that the gang will eventually escape from Terminus and make their way to Washington D.C., there are rumours that a key character might die in season five.
The premiere episode is titled "No Sanctuary," and it is sure to feature a lot of gory scenes. As per the synopsis of the episode, "The true motives of the Terminants come to light when Rick and the others end up in a vulnerable situation."
The episode picks up right from where season four finale left off, and actress Lauren Cohan, who plays Maggie in the series, told IGN that the episode lives up to its name.
"You should expect no sanctuary. [laughs] But no, it's hell. It's literally hell. We pick up right where we left off in Season 4 where everyone was hoping to find a place to catch their breath and they haven't. They're in the cargo car and they don't have any weapons and they've all found each other. It's a very exciting episode with some good surprises," she said.
"It's very action-packed. It sets the tone for what's coming this year really. It's great because we get to do these little movies, you know. Because each episode feels like its own little movie. But this year more than ever it feels like that. It's bigger. It's more expensive. There's more action, characters, and fear," Cohan added.
By the end of the first episode, Rick and his team would have escaped Terminus, and their next hurdle would be supplies running low. This issue will be dealt in the second episode titled "Strangers," and as per the rumours surrounding the episode, Rick will take up a risky mission "for a possible small reward when the supplies run low."
Meanwhile, executive producer Gale Anne Hurd hinted to CNN that death will surely come calling, and viewers can expect a big body count.
"Sadly, this is a world in which we tend not to make it to the end with the same characters intact. We can't imagine that this season will be any different," Hurd said.
So which character, or characters, will die when season five ends? Glenn is the primary candidate, especially as the trailer for episode one shows a man taking a baseball bat to the character's head. Other possible victims could be Sasha,Tyreese or Bob.
Season five of "The Walking Dead" premieres on Sunday, 12 October, and episode one of the season can be watched online on AMC.