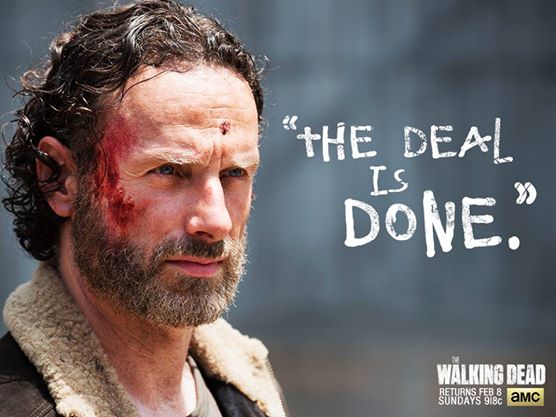 The midseason premiere of "The Walking Dead" is slated for Sunday, and fans will have to gear up for more heartbreaks, as both executive producer Robert Kirkman and actor Andrew Lincoln revealed that the episode is going to be "brutal."
"What Happened and What's Going On" is going to please a section of fans, but there will be some who are going to be disappointed, Kirkman said, calling it a fan-favourite and a fan-hated episode.
"That is going to be a fan-favorite episode in a lot of ways, and it's going to be a fan-hated episode in a lot of ways," Kirkman told Entertainment Weekly. "Because it is somewhat brutal. But there's a lot of magic in that as well."
Similar sentiments were echoed by Lincoln during an interview with EW Radio saying fans will have to prepare themselves for a lot of surprises in both episode 9 and 10.
"I think in a very similar way that we should've prepared them for, and probably tried to prepare them for, the season return at Terminus. This is a completely in the same vein, it's an emotional one too. [...] Be prepared for episode — I think episodes 9 and 10 are two of my favorites but they're brutal, they're incredibly emotional, and I think there will be a lot of surprises along the way," Lincoln, who essays the role of Rick Grimes, said.
These comments have convinced many fans that a fan-favourite character might be killed in the season premiere, and Noah seems to be a prime suspect. It seems tragic to kill off Noah, especially since Beth gave up her life so that he could get back to his family.
The second half of the season is going to be completely different from what viewers have been accustomed to, and episode 9 will see Rick and gang making up their mind to take Noah to Richmond, and possibly make the place their home too.
"The Walking Dead" season 5 episode 9 will air on 8 February 2015 at 9pm ET on AMC.