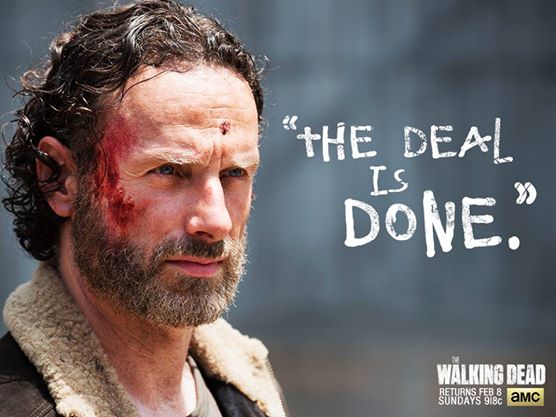 The second half of "The Walking Dead" season 5 will finally see Rick and gang reaching Alexandria Safe-Zone, and if spoilers doing the rounds are to be believed then a time jump is also expected to take the story forward following Beth's death.
The preview of the upcoming episode shows Rick and Daryl walking down a road, and from their get up it is being speculated that some time would have passed since Beth's death. Another hint of a time jump was hinted when The Spoiling Dead Fans revealed that the gang is expected to reach Alexandria Safe-Zone by episode 10 or 11, and a time lapse is also necessary for Morgan to catch up to the rest of the gang.
As for the deaths in the season, there is a possibility that Maggie and Tyreese would bid adieu in the second half of the season.
To a fans' question on whether Maggie would try to kill herself like in the comics, The Spoiling Dead Fans wrote: "You know, if you would have asked me this months ago I would say, 'Nope. Never.' But hearing Lauren talk about how we are going to see a darker side of Maggie in 5b than we have ever seen before, I'm starting to believe it's a possibility.
"Couple that with the fact that [author Scott] Gimple has been hitting the major beats of the comic, then it makes it even more possible. I hope not. I don't really want to see Maggie go down that path, but I think it's a possibility."
As for Tyreese, it is being reported that the character essayed by Chad Coleman may die either in episode 9 or 10 before the group reaches the Alexandria Safe-Zone in Alexandria, VA. Further confirming the departure of Tyreese is the fact that Coleman was absent from filming after this section of the story, reported The Spoiling Dead Fans.