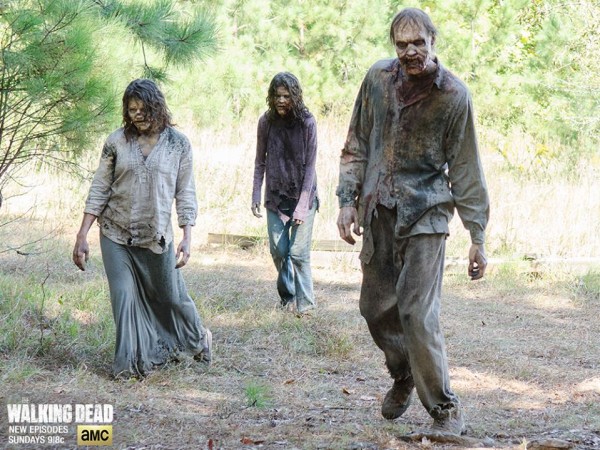 Season 5 finale of AMC's "The Walking Dead" is going to take viewers on a roller coaster ride with both the cast and crew hinting at surprising twists that's going to shock fans.
The final episode of the season is going to be 90-minutes long, and executive producer of the show Gale Ann Hurd told Time that there will be "a few surprises" and some "sad losses" .
"You can rest assured that not only walker blood will be spilled, but there will be a few surprises and some sad losses that no one, I think, will be able to predict," she said. "You know, we have a few surprises up our sleeve—I would throw that out there. But yes, we're seeing more of the division, not only among the Alexandrians and our group, but within our group as well."
While the "sad losses" hint at the death of a favourite character, spoiler forum The Spoiling Dead Fans recently revealed that no one from Rick's group will bite the dust in the finale.
Speculations are rife that Carol, Glenn or Daryl might be killed in the finale titled "Conquer," and reacting to the rumour, a post on the Facebook page of "The Spoiling Dead Fans" read: "Nobody in Rick's group dies. Daryl fans can relax."
On what to expect in the finale, here are a few more tidbits.
Morgan will reunite with Rick's gang: The opening sequence will show Morgan camping out in a forest and as the episode progresses, he will make it to Alexandria Safe-Zone along with Daryl and Aaron.
What W Means: Reportedly, fans will finally get to know what 'W' means. "Yes. Wolves," TSDF wrote, adding fans will get to see a few of them in the final episode of the season.
Negan: For a long while now, fans have been expecting to see Negan make an entrance on the zombie apocalypse. But it appears that they will have to wait for some more time.
"Sorry to disappoint, but noooo," read the message to a question on if the baseball bat wielding villain will pop up in the finale.
"The Walking Dead" Season 5 finale airs Sunday, 29 March at 9 p.m. on AMC.