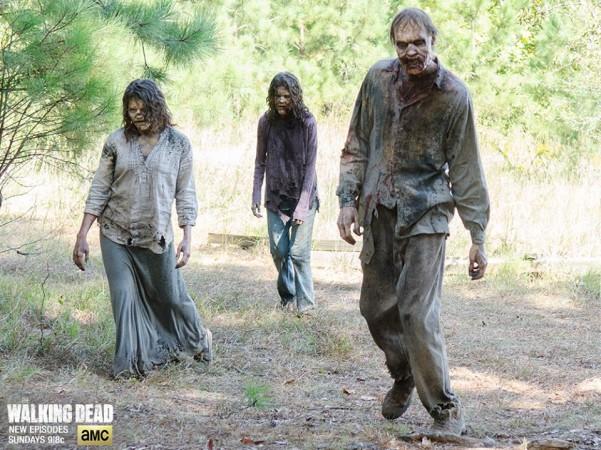 A number of "The Walking Dead" fans are hoping to get a glimpse of Negan in season 5 finale of AMC's "The Walking Dead," but actor Tyler James Williams believes fans will have to wait some more before the notorious character makes an appearance.
Negan isn't too far off, as the entire season has been hinting his presence through subtle references. For instance, when Noah has a breakdown in episode 9, the wall behind him is spray-painted "wolves nearby" and Williams thinks "that's a huge piece of foreshadowing."
Also, "when Tyreese dies, Noah's signature weapon is a bat. In Alexandria, the pantry is too substantial for that group of people. If they do follow the comic, they're paying tribute some way," Williams told The Hollywood Reporter, but at the same time added that he does not know what's going to come.
Williams also pointed out the difficulty in casting the character, as Negan is known for his foul mouth, and certain words he says in the comics cannot be repeated on television.
Negan's introduction – in the season 5 finale or season 6 -- will possibly see a favourite character saying goodbye, and if the series follows the comics, then Glenn would be the next one to go. In the comics, Glenn dies after his head gets smashed with Negan's baseball bat, Lucille, and according to Williams, Noah's death could have acted as a catalyst.
"If they do follow Glenn's death the way they do in the comic, it makes sense. If Glenn is so ruthless now because he's lost someone in his hands, he's going to approach Negan aggressively and that's probably how he's going to die," the actor told the media outlet.
Meanwhile, The Spoiling Dead Fans has gathered some spoilers for the upcoming episode, titled "Try." On whether there'll be any wolves, the site answered: "No, but Daryl and Aaron find a cut up walker, only its torso is missing. They find a woman tied to a tree, nude, guts hanging out with a W cut into its head. There are also two other walkers at separate points with the same W on its head."
"The Walking Dead" airs Sundays on AMC.