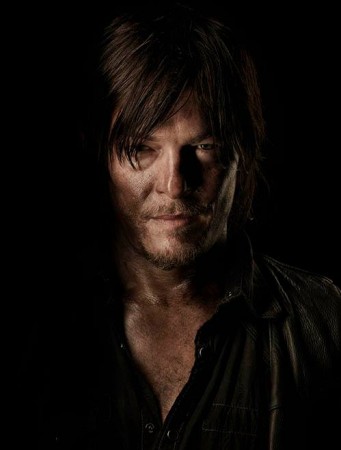 Rick Grimes and gang are yet to put their faith in Alexandria Safe-Zone, as the leader of the group is still doubtful about all of it being true. Although a bit apprehensive, the gang will slowly start to enjoy the pleasures of living in a community and make a genuine attempt to get back to normalcy in the upcoming episode titled "Forget."
"As Rick and the others continue to acclimate to their new surroundings, they consider a return to normalcy," reads AMC's official synopsis. But one person who will find it difficult to get back to how things were is Norman Reedus' Daryl Dixon.
According to spoilers, he will be closely monitored by those at Alexandria Safe-Zone, and the upcoming episode will see him and Aaron taking part in some zombie action. A sneak peek of the upcoming episode showed Aaron being impressed with Daryl's ability to tell if it's a walker or a person just by sound. When asked if he can also judge good people from bad, the crossbow wielding survivor tells the recruiter that there doesn't appear to be any difference now.
There are hints suggesting Daryl will find a new friend in Aaron, and some believe life as a recruiter could keep Daryl busy.
Here's what one Tumblr user wrote: "So I think Daryl will be Aaron's backup as he goes out recruiting. It looks like he is outside of the ASZ and since Eric has a broken ankle, Aaron will need someone to help him. We all know Daryl Dixon's skill set would be perfect for that job."
Meanwhile, Sunday's episode will see Rick gathering up a few of his friends to discuss the possibility of a takeover. But things don't go as planned.
TVGuide's scoop reads: "Unfortunately, the movement might end before it even makes it off the ground. Not only does an Alexandrian catch one of Rick's agents sneaking around, but by the end of the episode, two people -- including the one you would least expect -- have warmed so much to the peaceful way of life that they might not go through with their original plan."