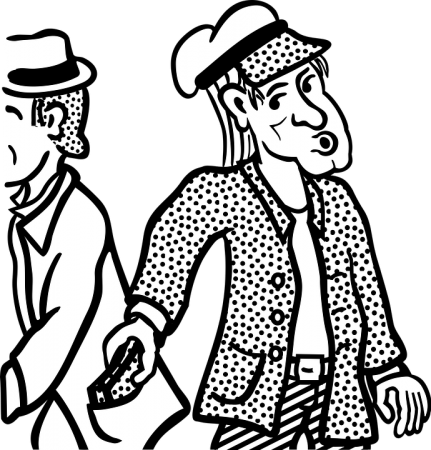 A hand-drawn cartoon with no detailing at all helped the police to identify a thief accused of stealing cash from a vendor. Lancaster police in Pennsylvania were successful in getting their hands on 44-year-old Hung Phuoc Nguyen, who has been accused of impersonating a vendor and taking money from a stand at the Central Market while an employee was not paying attention.
Also read: Thief arrested after getting stuck in traffic
The incident took place on January 30. Nguyen ran away with an undisclosed sum of money.
A witness somehow managed to draw a picture of the thief which turned out to be extremely childlike. Surprisingly, the sketch was drawn by a witness and not a professional artist and resembled Waldo. The man had two dots instead of eyes in the sketch with a single line for a nose and some lines here and there for hair and a hat.
The sketch was released with a detailed description of the suspect. The suspect was described as a 30-40-year-old man around 5 foot 4 inches tall and was believed to be of South American or Asian descent. He was further described as having wide cheekbones, a pointed chin and black, straight hair covering his ears.
People had a good laugh and ended up mocking the image on social media. The Lancaster city police in a Facebook said: "We released all of those details together in our police log in the hope that someone recognizes the suspect."
The police further stated that the sketch was not done to amuse the viewers, it was "not done in jest."
People, however, could not keep calm on social media and poked fun at the cartoonish sketch. One wrote, ''Here's hoping the police don't need to question him - he looks pretty tight-lipped." Another claimed, "That guy does look pretty sketchy."
The sketch was subjected to further ridicule after one person claimed that the image looked like singer Jason Mraz.
Also read: London police release footage of jailed serial thief stealing from a tourist
In response to all the trolls, the Lancaster police wrote online that the amateur sketch "jogged the memory of at least one investigator to provide a potential suspect name." The image along with the detailed description of the suspect in real life helped the cops identify the suspect as Nguyen.
The suspect's photo was then shown to the witness who easily identified him. Nguyen's whereabouts remain unknown, although an arrest warrant has been issued.