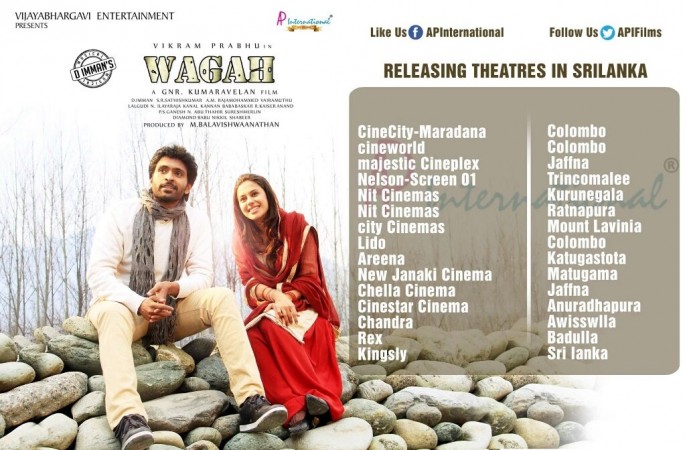 The trailer of "Wagah" evoked a lot of interest and the audio songs doubled viewers' expectations from the movie. "Solladhan Ninaikkiren" and "Pudunga Venadaa" songs have already turned out to be hit songs. As a result, people have pinned high hopes on the Tamil movie, which has been majorly shot in Kashmir and along the border regions.
Vikram Prabhu's "Wagah" has been written and directed by GNR Kumaravelan of "Haridas" fame. The movie has Ranya Rao in the female lead. Tulasi, Karunas, Ajay Rathnam and others are in the supporting roles. D Imman is the music director, SR Sathish Kumar is the cinematographer and Raja Mohammad is the editor of the Tamil flick.
Vikram Prabhu plays the role of a border security force officer in "Wagah" and Ranya will be seen in the role of a Kashmiri girl. The film tells the story of the hero's patriotism and his love with the Pakistani girl.
Vasu's family wants him to look after their business which he is not willing to take up. In order to avoid the responsibilties, the hero joins the Indian army. But soon the hero realises that he was not enjoying the work. As in any other love story, he falls in love with Kaarun (Ranya), who resides in a nearby border village.
At this juncture, Vasu is captured by a secret camp run by the Pakistani army. The remaining part is whether he succesfully rescues his sweetheart and return to his motherland.
Review:
Here, we bring you the comments posted by those who saw the film in the special shows.
Suganth: #Wagah... No words. (They truly had some guts to screen the film to press a day before its release) #smh
Kaushik (LMK): #WagahFromTomorrow.. Visually rich, scenic Kashmir locales and a sincere effort by @immancomposer.. #Wagah
Muhammed Arif: #Wagah dialogues are lifts the movie!!! Except few logic mistakes..movie is okay..one time watchable. @immancomposer re recording and songs
VJ Abishek: #Wagah a boring saga! Director fails to capitalize on the story! Not a scene grabs my attention! So typical and slow :(