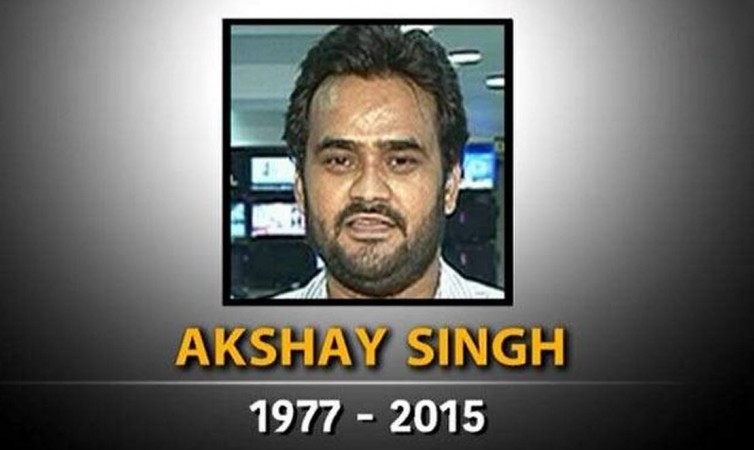 Union Home Minister Rajnath Singh on Sunday asked Madhya Pradesh Chief Minister Shivraj Singh Chouhan to initiate an investigation into the death of Delhi-based TV journalist Akshay Singh, who was covering the massive Vyapam scam.
"The home minister spoke to the chief minister of Madhya Pradesh. We don't have details of the conversation but he asked him to get the issue investigated thoroughly," a home ministry official told IANS.
Rajnath Singh's decision came hours after Congress demanded a CBI inquiry into the sudden death of the Aaj Tak reporter and Aam Aadmi Party (AAP) called for an independent inquiry. Chouhan has, however, agreed to a probe by Special Investigation Team (SIT), which is already investigating the recruitment scam.
Besides this, the Madhya Pradesh CM has also agreed to send Akshay Singh's viscera samples to Delhi's AIIMS for examination, as demanded by the journalist's sister, Pakshi Singh.
Pakshi had written to Chouhan, requesting that her brother's viscera samples be sent outside Madhya Pradesh for a fair trial.
"As you know, he (Akshay) died in mysterious circumstances. I request you to get examined his viscera outside Madhya Pradesh, preferably at AIIMS Delhi, for free and fair investigation," Pakshi said in the letter to Chouhan.
The India Today Group has also demanded a "fair and independent inquiry" into the death of Aaj Tak's special correspondent, who was also a member of the news channel's Special Investigation Team.
"The circumstances of the untimely death of TV Today journalist Akshay Singh merits a full, fair and independent inquiry. We urge the Madhya Pradesh government to immediately have the viscera sample sent to a recognised forensic laboratory outside the state, preferably Delhi's All India Institute of Medical Sciences, for a thorough and transparent examination," the statement on India Today's Facebook page said.
"This would assuage the family, friends and well-wishers of Akshay who seek some closure... Nothing we do will ever bring back Akshay, a brave and fearless journalist. The India Today group stands by the family in their hour of crisis," the statement added.
Akshay was in Meghnagar in Jhabua, along with his two colleagues, to interview the family of Namrata Damor, who was found dead under mysterious circumstances after her name figured in the Vyapam scam.
Akshay collapsed outside Damor's house just after the interview. He was rushed to a nearby civil hospital, where the facilities required to treat him were unavailable. He was then taken to a private hospital, but after doctors failed to revive him, he was again rushed to a hospital in Dahod, Gujarat, where the doctors declared him "brought dead".
The last rites of Akshay were performed in Delhi's Nigambodh Ghat on Sunday afternoon. Delhi Chief Minister Arvind Kejriwal, Deputy Minister Manish Sisodia and Congress vice-president Rahul Gandhi attended his funeral.