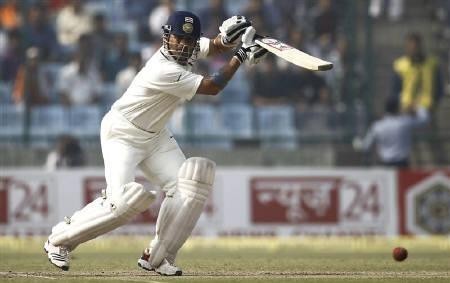 Very Very Special (VVS) Laxman was one of the most elegant and stylish batsmen that India has ever produced, and a regular fixture of the Sachin Tendulkar and the "Big Three" era -- a proper contemporary of the Little Master.
Laxman, after all, made his debut after Tendulkar, and retired before the great man; so when he says he idolised Sachin and looked up to the Indian legend, it just goes to show the tremendous respect that Tendulkar, who will retire from the sport after the upcoming Test series against West Indies next month, commanded not just amongst fans, not just amongst his rivals but, above all, his teammates as well.
Touching upon Tendulkar's captaincy record and how his batting style evolved, Laxman also reminisced about the first time he saw the batting legend in action.
"We had already heard a lot about Sachin Tendulkar when we first saw him," Laxman told ESPNcricinfo. "He had come to Hyderabad to play a Ranji Trophy match for Mumbai, and I was practising with the Hyderabad Under-15 then.
"Sachin scored 59 at the Ensconce Cricket Club, where I played. The club belonged to Arshad Ayub, who would tell me how this 15-year-old kid was playing against world-class bowlers. He would give Sachin's example to motivate me. He was an inspiration for all of us growing up in that era.
"In 1994, I had a very good series against Australia and England's U-19 sides. Some months later I met Sachin for the first time when I was playing for Hyderabad. I was surprised when he congratulated me on my performances against the youth teams.
"It turned out that Sachin kept up with domestic cricket through his friend and Mumbai teammate Amol Muzumdar. Amol and I were colleagues. He used to talk a lot about Sachin. I spent one night at his house, and saw that behind his bedroom door was a big poster of Sachin. You expect that from a fan or a younger cricketer, but this was a colleague and a contemporary. In due course of time, I understood why he felt that way."
One of the obvious statistic-based aspects used to mark Tendulkar's failures - there really aren't too many - in the sport of cricket is his captaincy record. However, Laxman has a different take on why the Little Master failed as the skipper of the Indian cricket team - the wrong place, at the wrong time.
"Sachin was a good captain even though the statistics suggest otherwise," Laxman continued. "I always tell him that. If he had the support structure available to a captain today -- a professional coach, good trainer, physio, fielding coach, logistics manager, administrative manager -- he would have done wonders. It was unfortunate that he was captain when the seniors were fading and the juniors were finding their feet.
"I don't believe in statistics. Thankfully Sachin didn't take those statistics to heart. He had an opportunity to prove himself once again before Anil Kumble and MS Dhoni became captains, but he didn't take it."
Tendulkar is not the same batsman that once used to smash the living daylights out of the bowlers at will and use his attacking prowess to demoralise the opposition. Laxman, though, believes Tendulkar is a better player now than that little tyro who took the world by storm.
"He was the most scrutinised cricketer of our era," Laxman added. "There was criticism when he toned down his aggressive style in favour of a safer but more consistent game. My own judgement of a batsman depends on how many runs he gets, not how. Ultimately, a batsman's job is to get runs. And usually, the more experienced a player gets, the more mature he becomes, the better his shot selection gets.
"That's what happened to Sachin. It's normal. He cut down on the shots that were leading to his downfall even though they entertained the crowd, and he improved the shots that were giving him consistent results. Because of that he has been the most consistent batsman I have ever seen."