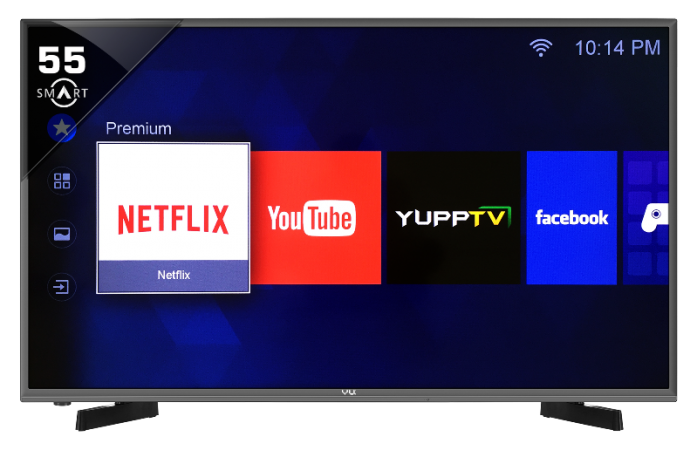 Vu is disrupting the long-untouched television market with its new range of affordable smart televisions in India. The premium range of televisions has been priced competitively between Rs. 20,000 and Rs. 52,000, depending on the screen size ranging from 32 to 55 inches. Vu has partnered with Flipkart to sell its smart TVs online.
According to a PTI report on Thursday, the California-based TV manufacturer is targeting a significant growth of 80 percent in the current fiscal year ending March 2017. Vu Technologies is aiming at Rs. 500 crore in revenue.
"We have grown to Rs. 275 crore this fiscal from Rs. 96 crore, and now our target for next fiscal (2016-17) is Rs. 500 crore," Vu Technologies CEO and Design head Devita Saraf told PTI. "The online channel contributed 70 percent of our sales and rest 30 percent is from offline."
The new range of televisions is likely to help Vu reach its goal as they offer disruptive features at a very affordable price. The new Vu smart TVs come with integrated Wi-Fi, HDMI ports, screen sharing feature and USB ports to view content from different mediums. The TVs also have a built-in gaming centre to enhance overall user experience.
Interestingly, the internet-enabled Vu televisions have built-in on-demand video channels such as YuppTV, YouTube, Netflix, RedBull, Kidoz, and Tedx. They also allow users to connect to social networking channels such as Facebook, Twitter and LinkedIn. The TV remotes also have direct access buttons for Netflix and YouTube, similar to the previous models that were launched earlier this year.
"Although traditionally TV has been referred to as the Idiot Box, we were curious to discover how we may smarten them up. The curiosity led to the creation of PremiumSmart TV with quad-core Internet video processor, providing excellent entertainment services," Saraf said during the launch of the new TVs on Thursday.
Vu's pricing of the new smart televisions makes them even more interesting. The 32-inch HD Smart TV costs Rs. 20,000, the 40-inch Full HD model is priced at Rs. 30,000 and the 50-inch Full HD is Rs. 42,000. Finally, the largest of the range, Vu 55-inch Full HD smart TV is priced at Rs. 52,000.