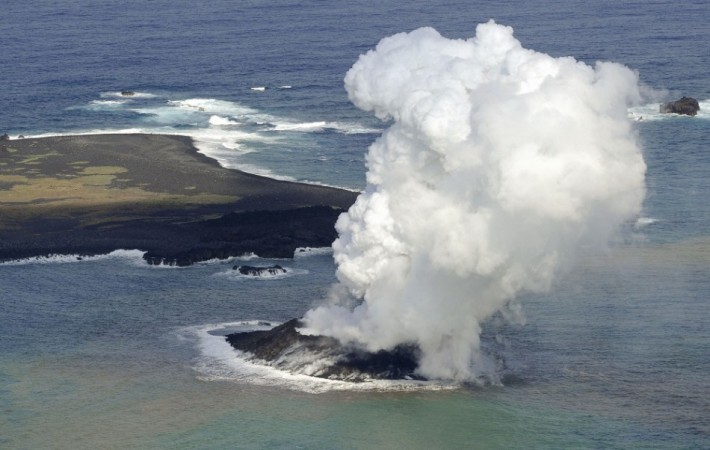 As a volcano called Mount Tavurvur in Papua New Guinea erupted, an amazing video was shot by a person who just happened to be standing there at that particular moment.
This video was taken by a tourist named Phil McNamara, who was travelling on water, while passing by the mountain, while it erupted. Phil is a taxi driver from the little Australian town of Townsville.
He captured a video of the eruption, which is one minute in length. He then put the video up on Facebook via his wife Linda McNamara's profile, which earned more than 8,25,000 views on the first day itself.
Phil and Linda were vacationing in New Guinea with their friends, when the former captured this video, on his camera. The extraordinary video shows how clouds, hanging just above the volcano reacted by moving away. The video also captured dust rising up to the atmosphere.
"Watch out for the shock, its coming," Phil warned the other passengers on the boat, soon after which a loud boom was heard. Experts say that this phenomenon is often experienced after a volcano erupts and is nothing but a wave of extremely compressed air, which travels away from the volcano, in all directions.
"It was a spur of the moment thing to head out and film the volcano," Phil told Brisbane Times. "We saw it erupting and the ladies from Kokopo Beach Bungalows where we were staying said they could take us out on the boat to get a closer look. I thought I might as well try and capture something you rarely get to see."
He also went on to say that the rest of the passengers on the boat, "absolutely crapped themselves", when they heard the after-shock. This was the first time any of them had seen an active volcano – let alone a volcano that would erupt.
Phil said that he had received a lot of calls from as far as USA and UK, enquiring about his video. He however, is not so sure what exactly to do with it.
"It's a bit of a surprise really," he explained. "There's been a lot of interest. I'm just having a sit back now and trying to work out what to do about it all."
Video courtesy: Phil and Linda McNamara, via Facebook and Youtube.