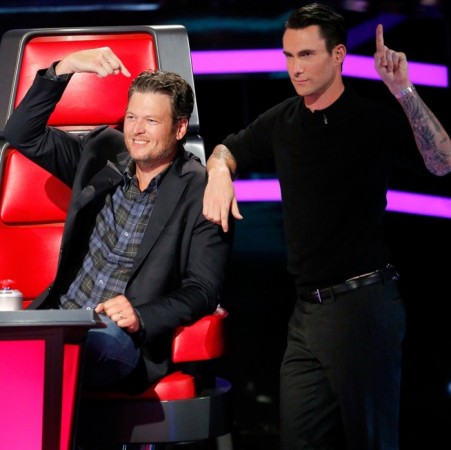 After a tough elimination round last week, "The Voice" was back on Monday with its top six finalists. The singers had to sing two songs each, with one of the selections dedicated to their mother as Mother's day is just round the corner.
Though the competition gets tougher every week, the singers manage to perform effortlessly every time. Last week's instant save singer India Carney from Christina Aguilera's team opened the night with Selma's Academy-Award winning song "Glory". By reworking on Common's rap verses, the singer made the song a very strong and original piece, proving once again that she is one of the strong contenders in the competition. As for her Mother's day tribute, she sang "Lay Me Down" by Sam Smith, which got her Adam Levine's full attention.
Judge Levine's only remaining artist Joshua Davis wowed the audience by singing the fast-paced "Desire", which was a bit surprising as he usually goes for slow ones. His second song, "In My Life" by The Beatles, did not score well with the judges though any mother who is a Beatles fan would have surely loved it.
Koryn Hawthorne came next with his song "Everybody Hurts" and her control over the big notes was appreciated by everyone. Her next song, "Dream On", was one of the most powerful performances of the evening and though she is 17, the way she sang her way through all those high notes, made her seem like a "well-seasoned" singer.
Team Christina's Kimberly Nichole sang "Free Fallin'" and the "Animals" singer praised her saying that she sings every song so effortlessly that it does not matter which one she chooses. Nichole followed it up perfectly with her next song "Dirty Diana" that had Aguilera comment, "You were truly a rock star up there."
The performance by Blake Shelton's Meghan Linsey earned a standing ovation from all the judges. She sang "Steamroller Blues" by James Taylor and finished up with a beautiful rendition of "Amazing Grace" that was as powerful as any other performance of the day.
The night ended with Sawyer Fredericks singing "Shine On" in his unique voice. "It's so simple and real and powerful at the same time," Shelton said praising the singer. Fredericks closed the night with Al Green's "Take Me To The River", which was also praised by the judges.
Tune in to watch the top six fight it out for a spot in the semi-finals on 5 May's episode of "The Voice", to be aired at 8 pm on NBC.