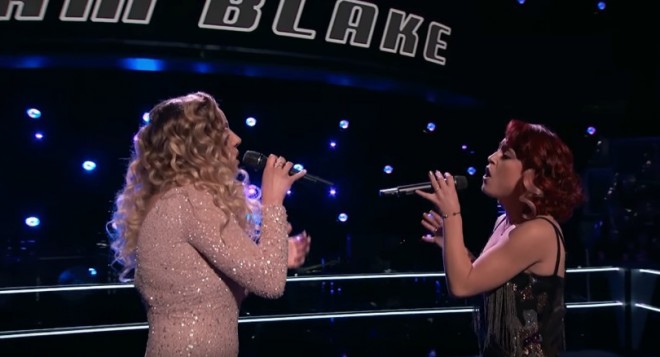 The Voice USA 2017 (Season 12) coaches – Adam Levine, Gwen Stefani, Alicia Keys and Blake Shelton – started reshaping their respective teams, sending away half of their original members and stealing a couple more from other's teams in the Battles.
Monday witnessed six pairs – two each from Team Blake and Team Alicia, and one each from Team Adam and Team Gwen – perform with the hope of progressing to the Knockout round.
Also read: The Voice Season 12 Blind Audition ends: Complete list of contestants
Brennley Brown and Lauren Duski of Team Blake were the first to hit the stage. They took on the song "Better Man" by Little Big Town. It was a good performance and Blake had a hard time choosing one. He opted for the more experienced Lauren. But it's not all over the 14-year-old as Blake's girlfriend Gwen and Adam pushed their Steal buttons. She chose to join Team Gwen.
JChosen and Kenny P of Team Gwen were the next to perform. They sang the song, "I Was Made to Love You" by Stevie Wonder. It was a solid performance but Gwen could choose only one, and she chose JChosen.
Team Alicia's Anatalia Villaranda and Missy Robinson took on "Tightrope" by Janelle Monae. Alicia chose Anatalia.
The next pair to hit the stage was Gaby Borromeo and Mark Isaiah from Team Adam. They performed "Pillowtalk" by Zayn Malik. It was a close fight but seemed to be tailor-made for Mark, and he won the Battles as expected.
Felicia Temple and Quizz Swanigan of Team Alicia took on the song, "Titanium" by David Guetta (ft. Sia). Alice chose Quizz to remain in her team, and Blake stole Felicia.
Team Blake's Ashley Levin and Casi Joy were performed "How Blue" by Reba McEntire. It was no doubt the best performance of the night. Interestingly, Blake choose Casi Joy but Ashley got steals from the rest of the coaches. She joined Team Alicia.
Team standings:
Team Adam: Johnny Hayes, Mark Isaiah, Jesse Larson, Julien Martinez, Kawan Debose, Taylor Alexander, John West, Malik Davage, Hanna Eyre, Nala Price, Sheena Brook
Team Alicia: Anatalia Villaranda, Lilli Passero, Autumn Turner, Quizz Swanigan, Jack Cassidy, Lauryn Judd, R.J. Collins, Hunter Plake, Vanessa Ferguson, Chris Blue, Ashley Levin
Team Gwen: Stephanie Rice, J Chosen, Savannah Leighton, Brandon Royal, Aaliyah Rose, Troy Ramey, Johnny Gates, Caroline Sky, Davina Leone, Sammie Zonana, Jozy Bernadette, Brennley Brown
Team Blake: Lauren Duski, Aliyah Moulden, Casi Joy, Micah Tryba, Josh Hoyer, Enid Ortiz, TSoul, Valerie Ponzio, Andrea Thomas, Dawson Coyle, Felicia Temple