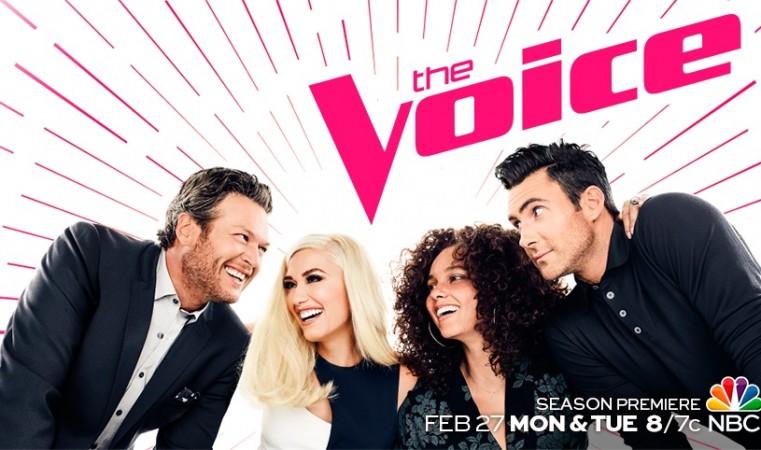 The Voice USA 2017 season 12 will premiere tonight on NBC more than two months after season 11 ended with Sundance Head of Team Blake walking away with the coveted title. The NBC's three-time Emmy Award-winning singing talent competition will kick off with the blind auditions.
Coaches Adam Levine, Blake Shelton, Gwen Stefani and Alicia Keys will be on the famous red chair. They will push the button on contestants they want to work with. So, promising singers will try to impressive the coaches with their voice – purely with their voice. Gwen Stefani, who was in season 10, will return to the show replacing the bubbly Miley Cyrus.
[READ: The Voice USA 2017 spoilers: Season 12 set to kick off with blind auditions]
Expect lots of banters and leg pulling between the coaches as they try to convince the contestants to join their respective teams. Adam Levine and Blake Shelton may exchange lots of repartee like in the past, and many may expect Blake to show sweet little things to his lady love and coach Gwen Stefani.
A trailer of the blind audition has J Chosen wooing the coaches and audience with his beautiful performance of Marvin Gaye's "Sexual Healing." 29-year-old singer. The blind audition of 16-year-old Anatalia Villaranda has also been leaked. She rocked the audience with her performance of "Runaway Baby" by Bruno Mars. The coaches were seen going out of their way to convince the contestants to choose them as their coach.
JChosen Blind Audition: "Sexual Healing" (Sneak Peek)
Anatalia Villaranda Blind Audition: "Runaway Baby" (Sneak Peek)
The winner of The Voice will walk away with a $100,000 prize money and a record deal.
The Voice USA 2017 Season 12 premieres on Monday, February 27, at 8 pm EST / 10 ET/PT / 06:30 am IST (Tuesday) on NBC. The blind auditions can be live-streamed on NBC's official website but it requires subscription and is restricted to certain areas.