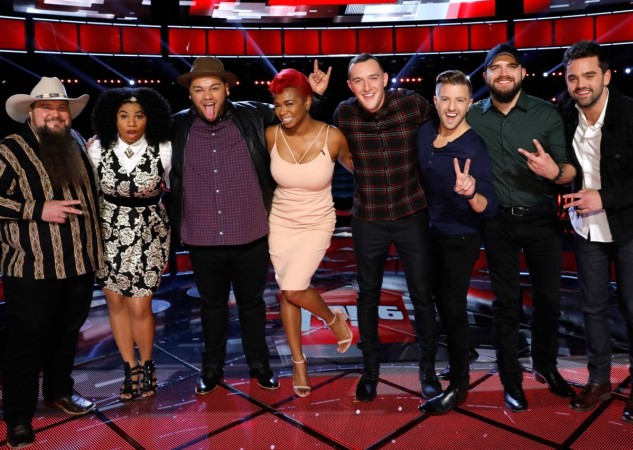 "The Voice" Season 11 (USA) 2016 semifinals elimination episode is going to be brutal. Half of the semifinalists will be sent home tonight, which means four singers will progress to next week's finale and the remaining four will be eliminated from the show.
Host Carson Daly will call out the names of the contestants who made it to the finale and who don't. Two artistes with least public votes will be directly shown the doors while those in the bottom three will be given another chance to perform for instant save. But only one of them will win.
[READ: Reason why 'The Voice' USA 2016 semi-finals live performance was disappointing]
So, who will go to the finale and who will go home? Expect the unexpected as the fate of the contestants depends on public vote, and disappointments are part of the show at this stage of the competition.
It is difficult to predict who will go to next week's finale, but if one is to go by the performances on Monday, Ali Caldwell of Team Miley and Sundance Head of Team Blake should find a place in the finals, and may be even go on to win the title. Ali's rendition of "I Will Always Love You" by Whitney Houston in the semi-finals was one of the highlights of the night, and Sundance's performance of "Love Can Build a Bridge" by The Judds was beautiful.
Brendan Fletcher of Team Adam and Aaron Gibson of Team Miley could be sent home after their poor show in the semi-finals. Brendan sang "Angel" by Sarah McLachlan and Aaron performed "(Everything I Do) I Do It For You" by Bryan Adams on Monday night but it was not impressive.
However, contestants like Christian Cuevas and Wé McDonald of Team Alicia, and Josh Gallagher and Billy Gilman of Team Adam could end up in the bottom half after their decent performance in the semi-finals. They could be among those given one more chance to perform on Tuesday for the instant save.
"The Voice" Season 11 (USA) 2016 semi-finals results will be telecast live at 8 pm EST on Tuesday on NBC. The episode can be live-streamed on the channel's official website, though it is restricted to certain areas and needs subscription.