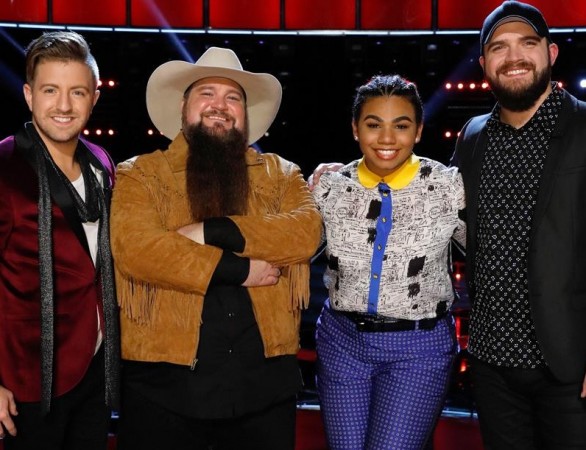 "The Voice" Season 11 (USA) 2016 is just two episodes away before the winner is announced. The finale will kick off on Monday with the finalists performing one last time in the competition before the public vote one of them for the title this season.
Spoilers
The contestants have hitherto performed only one song each every week, including the semifinals but the finale week is expected to be different. The four finalists are expected to perform three songs each – a solo, a duet with coach and an original song. It is not confirmed but "The Voice" season 10 followed this format. The song choice of the contestants is also not known.
[READ: 'The Voice' USA 2016 finale: Complete list of finalists]
The contestant with highest public vote will be declared winner on Tuesday. In the last season, iTunes votes received for the six weeks leading up to the finale were cumulatively added to online and app finale votes. This same system could be followed this time too though the number of weeks leading up to the finals this season is only five.
Four contestants -- Brendan Fletcher of Team Adam, Aaron Gibson of Team Miley, Christian Cuevas of Team Alicia and Ali Caldwell of Team Miley -- were eliminated from the competition in the semifinals. The results were based on public vote and the coaches have no power to save any artiste.
The elimination of Ali Caldwell and Aaron Gibson left debutante coach Miley Cyrus with no contestant in the show. Adam Levine has two singers -- Billy Gilman and Josh Gallagher -- in his team, while Alicia Keys has Wé McDonald and Blake Shelton has Sundance Head.