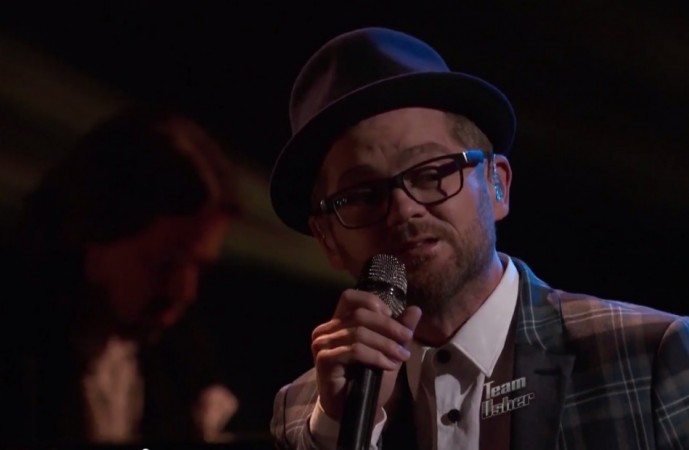 "The Voice" USA 2014 top five contestants were made to perform two songs each – one chosen by their coaches and one by themselves - during the semifinals. America will vote three of them to the next week's finale based on Tuesday's live performance.
The elimination episode will be telecast live at 8:00 pm EST Tuesday on NBC Television (6.30 am IST, Wednesday). Two of the contestants will be sent home, while the remaining three enter the finale next week.
Live Show Episode Recap:
Kristen Merlin: The lone contestant from Team Shakira opened the night with Miranda Lambert's "Gun Powder and Lead." The performance was fine, but there is nothing special about it. Her second song was "Foolish Games" by Jewel which she sang beautifully.
Josh Kaufman: Usher's only hope Kaufman took on John Legend's "All of Me." It was a good song choice and wonderful rendition that could possibly earn him a place in the finals. He started his second song, "Love Runs Out" by OneRepublic on sober note before taking a rocking turn in the latter half.
Kat Perkins: The powerhouse from Team Adam sang "Chandelier" by Sia and she killed it. The staging was awesome and so too her performance. Her second song was "Let It Go" by Idina Menzel. It was not a perfect performance, but there were high moments, especially with the big notes where audience would get goosebumps.
Jake Worthington: The man from Team Blake sang "Good Ol' Boys" by Waylon Jennings and it was a good rendition despite some pitch issues. His second song was Bryan Adams' "Heaven," but it wasn't an impressive performance. He got to work on pitch big time.
Christina Grimmie: The Internet sensation from Team Adam sang "Hide and Seek" by Imogen Heap. It was a beautiful rendition though she could have worked a little harder on pumping in some more emotion. Her second song was "Some Nights" by fun. Sadly, it was a dumper despite one big note.
Looking at the live performances, Kaufman and Perkins should make it to the finals next week, while Kristen Merlin, Jake Worthington and Christina Grimmie might fight for the third spot. But at the end of the day, it's the American public, who will decide their fate in the competition.
(Image Credit: Screenshot from The Voice Official Video)