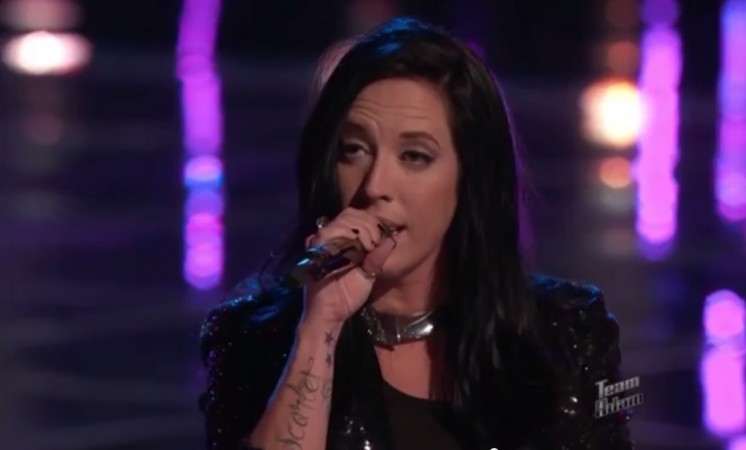 It seems like Kat Perkins is not destined to be in "The Voice" USA 2014. In what could come as a shocker for many music lovers, the girl from Team Adam was sent home on Tuesday despite putting up a terrific performance in the semifinals.
All eyes were on host Carson Daly on Tuesday, as he took the stage to announce the names of top three, who will enter the finals next week. Jake Worthington from Team Blake was the first to be called out, followed by Josh Kaufman from Team Usher, leaving Kat Perkins and Christina Grimmie of Team Adam, and Kristen Merlin of Team Shakira in the bottom three.
The contestants in the bottom three were made to sing a song each for survival. Merlin sang Carrie Underwood's "Blown Away" and it was a good performance except for a few shaky moments in the lower notes. She picked the momentum in the chorus and ended on a high note. Her rendition of Miranda Lambert's "Gun Powder and Lead" and Jewel's "Foolish Games" in the semifinals live show couldn't save her.
Perkins sang Carrie Underwood's "Good Girl" for survival. It was a good performance, but she might be disappointed for being placed in the bottom three after receiving all the praises from the coaches on Monday. Her spectacular rendition of Sia's "Chandelier" and Idina Menzel's "Let It Go" on Monday should have pushed her to the finals, but American audience voted otherwise.
Grimmie was placed in the bottom three after her not-so-impressive rendition of Imogen Heap's "Hide and Seek" and Fun's "Some Nights." She sang OneRepublic's "Apologize" for survival on Tuesday, pumping in all she has. The Internet sensation was voted to the finals through the Twitter Save, but not before shedding a few tears on stage.
Going by semifinals live performances, Perkins should not be in the bottom three. She and Kaufman were clearly ahead of the pack, leaving behind Grimmie, Worthington and Merlin. So, her elimination on Tuesday came as a big shock for music lovers.
Worthington, Kaufman and Grimmie will now fight for the coveted title in the finals next week. They will perform live one last time on Monday before America chooses the winner.
(Image Credit: Screenshot from The Voice YouTube Video)