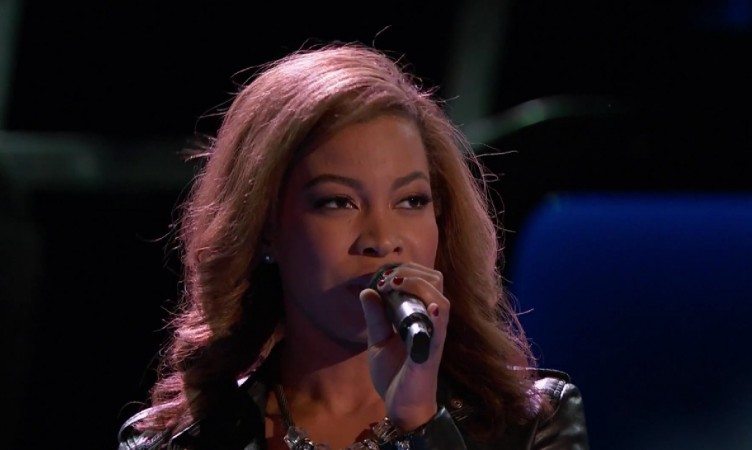 "The Voice" US Season 8 Blind Auditions part 3 saw as many as 19 contenders hitting the stage and 14 of them managed to impress the coaches - Adam Levine, Blake Shelton, Pharrell Williams, and Christina Aguilera.
It looked like Adam was feeling the heat after failing to convince contestants to join his team in the first two auditions, as he got five of them, most of them uncontested, on Monday.
Here is highlights/recap of "The Voice" US Season 8 Blind Auditions part 3:
Kelsie May (15): She sang Loretta Lynn's "You're Lookin' at Country" and got three chairs – Pharrell, Christina, and Blake – turned. She joined Team Blake.
Kimberly Nichole (32): Her rendition of "Nutbush City Limits" by Tina Turner made Pharrell and Blake to push their buttons. She chose Pharrell as her coach.
Michael Leier (20): He sang Wayne Cochran's "Last Kiss." Adam and Blake fought hard to make him join their respective teams but he joined the former.
Travis Ewing (23): He performed Destiny's Child's "Say My Name" and got Pharrell, Christina and Blake vying for him. He surprised many by joining Team Pharrell.
Noelle Bybee: She impressed Pharrell with her rendition of "Unbelievers."
Sonic (23): She impressed Adam and Christina with her rendition of "Money on My Mind" by Sam Smith. She chose Christina as her coach. Christina also got Clinton Washington who sang "Candle in the Wind" by Elton John.
Jacob Rummell (18): He sang Bruno Mars' "Count On Me" and got Adam and Blake to push their "I Want You" buttons. Jacob chose Blake as his coach. Blake also got Matt Snook uncontested. He performed "Red Dirt Road" by Brooks & Dunn.
India Carney (21): She performed "New York State of Mind" by Billy Joel and got all the chairs turned. Coaches tried to woo her but she chose to join Team Christina.
Adam got Bren'nae DeBarge, James McNeiece, Barry Manniefield, and Nicolette Mare uncontested. Bren'nae sang "Golden," James took on "Lay Me Down" by Sam Smith, Barry rendered "Me and Mrs. Jones" by Billy Paul, and Nicolette sang "Everything Has Changed" by Taylor Swift.
Meanwhile, a few contenders like Hannah Ellis, Mark Lum, Sara Schulmann, Sam King, and Ella Khorov were unlucky as they failed to make the coaches push their buttons.