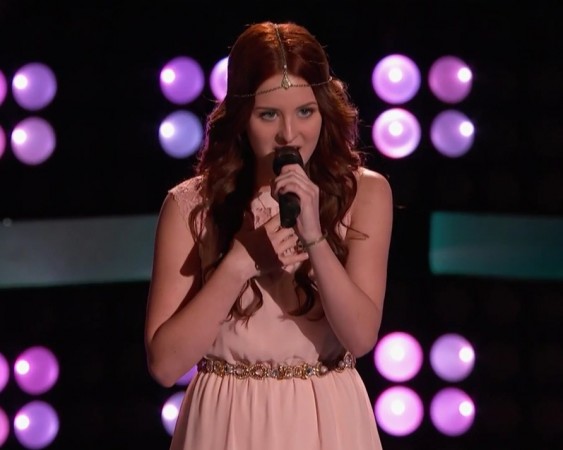 "The Voice" US Season 8 Blind Auditions part 2 saw many talented contenders hitting the stage with the hope of impressing the coaches – Adam Levine, Blake Shelton, Pharrell Williams, and Christina Aguilera – and eight of them did.
Adam Levine finally convinced two contenders to join him his team one Tuesday night after ending up empty-handed on the first night of the Blind Auditions.
Anthony Riley, 27, performed "I Feel Good" by James Brown. The street performer managed to get all the chairs turn around. He joined Team Pharrell.
Gabriel Wolfchild, 26, performed "Don't Think Twice, It's Alright" by Bob Dylan. Adam, Blake and Christina pushed their chairs. He joined Team Christina.
Brooke Adee, 16, sang "Skinny Love" by Bon Iver. Adam and Blake pushed their buttons and got into their usual fight. She joined Team Blake.
Tonya Boyd-Cannon, 35, rendered "Happy" by Pharrell Williams. Adam, Christina and Pharrell turned around, and she picked Adam as her coach.
Joe Tolo, 21, performed "To Love Somebody" by The Bee Gees. Christina and Blake turned around. He joined Team Christina.
Mia Z, 15, sang "The Thrill Is Gone" by B.B. King. Blake and Pharrell pushed their chairs but she picked Pharrell as her coach.
Blaze Johnson, 23, rendered "How To Save A Life" by The Fray. Adam and Blake turned around for him. He picked Adam as his coach.
Deanna Johnson, 18, sang "All I Want" by Kodaline. All the four coaches turned their chairs for her. She joined Team Adam.
Complete List of Contestants
Team Pharell: Lowell Oakley, Meghan Linsey, Sawyer Fredericks, Anthony Riley, Mia Z
Team Christina: Rob Taylor, Treeva Gibson, Gabriel Wolfchild, Joe Tolo
Team Blake: Sarah Potenza, Cody Wickline, Joshua Davis, Brooke Adee
Team Adam: Tonya Boyd-Cannon, Blaze Johnson, Deanna Johnson