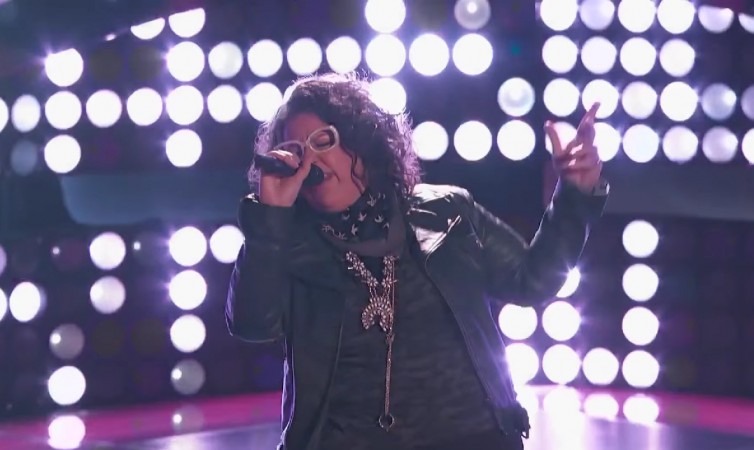 "The Voice" US Season 8 Blind Auditions kicked off on a high note on Monday with many hopefuls managing to convince coaches - Adam Levine, Blake Shelton, Pharrell Williams and Christina Aguilera – to push their "I Want You" buttons. The show had a superb start with some talented contestants hitting the stage, hinting cut-throat competition as the show progresses.
"The Voice" USA 2015 has returned after Craig Wayne Boyd of Team Blake won Season 7 title in December, 2014. Carson Daly has returned as the host and coaches Adam Levine, Blake Shelton and Pharrell Williams have retained their place, while Gwen Stefani has been replaced by Christina Aguilera, who was among the original judging panel.
The show kicked off Season 8 with the coaches performing the number "Are You Gonna Go My Way" by Lenny Kravitz. Sarah Potenza was the first singer to hit the stage in the blind auditions, and her rendition of "Stay With Me" by The Faces made all the four coaches to push their chairs. Adam Levine was the first push the button and Pharrell was so eager to have her in his team but she chose Team Blake.
Lowell Oakley, 19, performed Duke Ellington's "Don't Get Around Anymore" and won the hearts of Adam and Pharrell. The coaches begun their usual fight to convince the contestant to join their respective teams, and Lowell chose Pharrell. Then Rob Taylor, 22, got Pharrell, Adam and Christina to turn their chairs with his rendition of "I Want You" by Luke James. He joined Team Christina.
Cody Wickline got all four chairs turned with his performance of "He Stopped Loving Her Today" by George Jones. Adam pushed his button seconds into his performance but the country singer chose to join Team Blake.' Treeva Gibson, 16, was the next to hit the stage. Blake and Christina turned their chairs for her and she chose the latter as her coach.
Meghan Linsey, who had a band in the past, belted Nazareth's "Love Hurts" and made three coaches - Pharrell, Christina and Adam – to turn their chair. She chose Pharrell as her coach. Then Adam and Blake turned for Joshua Davis, who performed "I Shall Be Released" by Bob Dylan. The duo began their usual fight but Joshua joined Team Blake.
All the four coaches turned their chairs for Sawyer Fredericks, 15, who sang "I'm A Man Of Constant Sorrow." He chose Pharrell, leaving Adam empty-handed on the first night of the Blind Auditions.
However, some hopefuls like Ivonne Acero, Mason Henderson, and Bryce Sherlow failed to convince the coaches despite their good performances.
First Blind Auditions Results:
Team Pharell: Lowell Oakley, Meghan Linsey, Sawyer Fredericks
Team Christina: Rob Taylor, Treeva Gibson
Team Blake: Sarah Potenza, Owen Boryheike, Joshua Davis
Team Adam: NIL