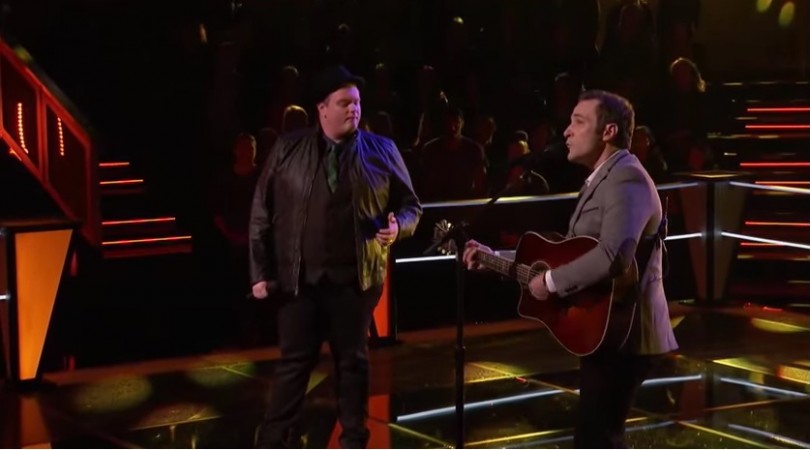 "The Voice" US Season 8 Battle Round is all set to kick off tonight. It's going to be survival of the fittest, as the selected 43 contestants will take on each other and almost half of them will be sent home.
In the Battle Round, each coach - Adam Levine, Blake Shelton, Pharrell Williams, and Christina Aguilera - will pair their contestants for a duet. A coach can choose only one from a pairing and the rejected contestant will be sent home is not stolen by other coaches.
"The Voice" US Season 8 Battle Round will be telecast at 8:00 pm EST on Monday on NBC Television (6.30 am IST, Tuesday) and it will be live streamed online on NBC's official website.
Interestingly, "The Voice" teaser has hinted tough competition. Brian Johnson and Joshua Davis from Team Blake are seen taking on the song, "Knockin' on Heaven's Door" and coaches are all praise for their performance. Adam Levine says that the contestant not chosen by his coach will be stolen.
According to a report by Fashion & Style, Meghan Trainor, mentor of Team Blake, is moved to tears by their performance. "You guys are fire. You both gave me chills," she said. "Somebody hug me!" Lionel Richie, who mentors Team Pharrell, says in the video that he loves "The Voice" because real artists teaches "artists how to be artists." He is also seen working with Anthony Riley and Travis Ewing, Sawyer Fredericks and Noelle Bybee, and Mia Z. and Ashley Morgan. http://www.fashionnstyle.com/articles/50527/20150306/the-voice-season-8-spoilers-full-battle-round-leaked-joshua-davis-vs-brian-johnson-watch-video.htm
However it is still not sure who will perform on Monday. Here is complete list of the contestants:
Team Blake: Sarah Potenza, Cody Wickline, Joshua Davis, Brooke Adee, Kelsie May, Matt Snook, Jacob Rummell, Brenna Yaeger, Brian Johnson, Corey Kent
Team Pharell: Lowell Oakley, Meghan Linsey, Sawyer Fredericks, Anthony Riley, Mia Z, Noelle Bybee, Travis Ewing, Kimberly Nichole, Ashley Morgan, Briar Jonnee
Team Christina: Rob Taylor, Treeva Gibson, Gabriel Wolfchild, Joe Tolo, India Carney, Clinton Washington, Sonic, Koryn Hawthorne, Katelyn Read, Ameera Delandro, Jeremy Gaynor
Team Adam: Tonya Boyd-Cannon, Blaze Johnson, Deanna Johnson, Nicolette Mare, Barry Minniefield, James McNeiece, Bren'Nae DeBarge, Michael Leier, Lexa Davila, Josh Batstone, Johnny Cash.