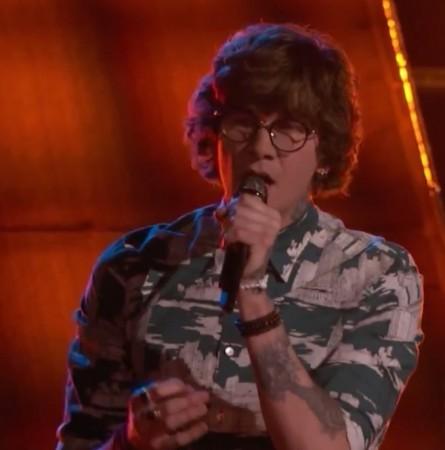 "The Voice" U.S. Season 7 is coming to an end tonight, and the only question left is, who will win the title – Chris Jamison, Matt McAndrew, Craig Wayne Boyd or Damien? But nobody knows, as the winner will be announced tonight based on the number of votes the contestants get from the audience.
America will decide the fate of the four finalists by voting for their favourite singers based on their performances on Monday's finale. So, the winner of "The Voice" U.S. Season 7 could be Matt, Chris, Craig or Damien.
"The Voice" U.S. Season 7 finals results will be announced at 8:00 pm EST on Tuesday on NBC Television (6.30 am IST, Wednesday) and it can be live-streamed online on Hulu.
The four finalists performed three songs each - a solo cover, a duet with coach, and a new single – in their final performance of the season on Monday. They put up a great show, making the competition tighter than expected.
Matt McAndrew of Team Adam perform his original song called "Wasted Love," before performing "Lost Stars" with original singer Adam Levine himself and winding up the show with "Over the Rainbow". He showed lots of character and consistency in his performances. It was a great performance, and he deserves to win the title.
Chris Jamison of Team Adam rendered "Velvet," an original song and nailed it. He went on to sing Robin Thicke's "Lost Without U" with his coach Adam Levine before ending the show with Justin Timberlake's "Cry Me a River." He did a great job, and he is no doubt one of the favourites to win the title.
Damien of Team Adam sang Donny Hathaway's "A Song for You" for his solo cover, before taking on Elton John's "Don't Let the Sun Go Down on Me" with his coach Adam Levine, and ending the show with his original single, "Soldier." He showed lots of improvement in his performance after returning to the show on wild card. So, it won't come as a surprise if walks away with the trophy.
Craig Wayne Boyd, the lone contender from Team Blake kicked off his final night's performance with his original "My Baby's Got a Smile on Her Face" before performing Randy Houser's "Boots On" with his coach Blake Shelton and ending the show with Alabama's "In Pictures." He is a great talent with the ability to interpret the lyrics of a song and sing with emotion. He has a good chance of winning "The Voice" title this season.