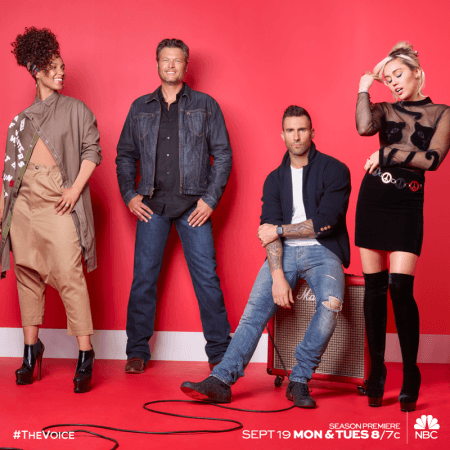 The viewers will get to see which contestants made it to the next battle rounds in The Voice US season 9, scheduled to air on Monday night on NBC.
In last week's episode, the coaches stole members from each other's team. Three of Alicia Key's artists went to other coaches.
In the episode, Adam Levine got Jason Warrior, while lost Christian Cuevas. New coach Miley Cyrus got Lauren Diaz, while losing We McDonald. Afterwards, Adam stole Dave Moisan and much to the shock of the viewers, lost Michael Sanchez.
Talking about his new coach, Dave said, "His mindset is very similar to mine, and a lot of the things he's pushing me towards are things are things that I was thinking of already."
Alicia stole Courtnie Ramirez from Team Miley. Earlier, Courtnie had lost one of the rounds to Ali Caldwell. Other artists, who were eliminated in the first Battle Rounds, were Andrew DeMuro and Natasha Bure (Team Adam), Dan Shafer and Ethan Tucker (Team Blake Shelton), and Lane Macl (Team Miley).
Though the contestants who make it to the final rounds is not yet clear, the promo of the upcoming episode hints at several new developments about to happen in this season's The Voice.
Episode 9 of The Voice US season 11 can be watched on NBC online by live streaming the Battle Rounds on NBC.com. Besides it, in those areas where live stream option is not available, viewers can also watch the episode anytime online free by CLICKING HERE.