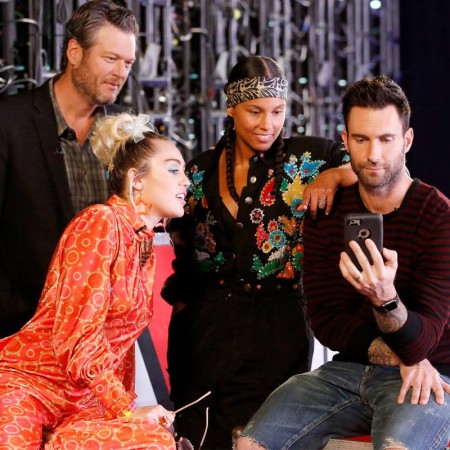 In the next episode of The Voice US season 11, the viewers will get to see which artists will advance to the first Battle Rounds of 2016.
In the last week's episode, the results of final blind auditions were declared. It included Natasha Bure, who is the daughter of Candace Cameron-Bure of Full House fame. Though Natasha was nervous initially, she still managed a spot in Adam Levine's team.
The episode also featured the only duo in season 11 of The Voice, Whitney and Shannon, who performed in brilliant harmonies and got all the judges to turn their chairs. Though they were looking forward to join Blake Shelton, they eventually became part of Alicia Keys' team.
Other contestants who made it through the blind auditions were songwriter Courtney Harrell (Team Blake), musician Blaine Long (Team Blake), Kylie Rothfield (Team Alicia), and Josette Diaz (Team Miley Cyrus).
The upcoming episode will feature the first Battle Rounds of season 11 and each of the coaches will be joined by a special guest mentor. Bette Midler will advice Team Blake, Charlie Puth will meet Team Alicia, Joan Jett will have a discussion with Team Miley, and Team Adam will get to meet Sammy Hagar.
Talking about advising The Voice contestants, Hagar said: "I could never make it on these shows. That's what I was so impressed with, with some of these people [on Team Adam], that they could do it. They'd just close their eyes and do it. Wow, they're standing in this room in front of Sammy Hagar and Adam Levine with TV cameras all over them, and they're doing it. I couldn't do it. I'd choke."
To watch the live stream of the first Battle Rounds, CLICK HERE. However, those who are unable to live stream the episode, can watch it anytime later on NBC.com.