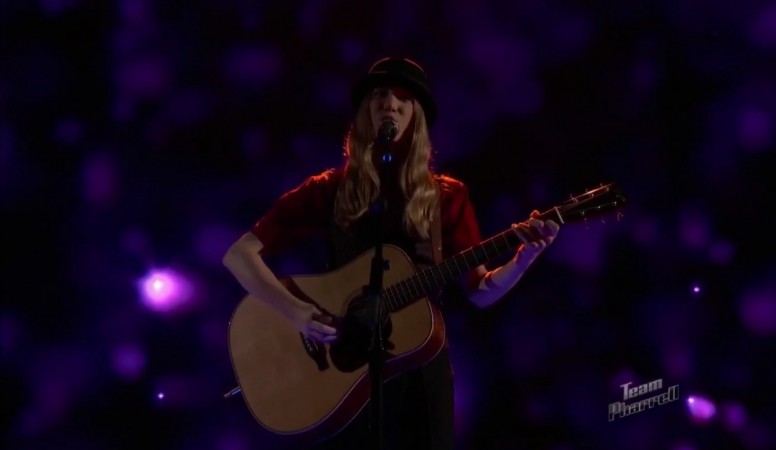 You are almost there. "The Voice" US Season 8 winner will be crowned tonight after weeks of stiff competition. Host Carson Daly will declare the name of the artist who get most American votes after their last live performance on Monday.
The top four finalists - Sawyer Fredericks, Meghan Linsey, Koryn Hawthorne, and Joshua Davis – Monday sang three songs each, an original song, a duet with the coach, and a solo. Their performance in the finale was crucial as it will have huge influence on the final result.
Koryn Hawthorne of Team Pharrell: She kicked off with James Brown's "It's a Man's Man's Man's World" and it was a great performance with right dose emotion and power. Her next performance was with her coach Pharrell Williams. They sang The Beatles' "We Can Work It Out" but it was not impressive and many will lament the song choice. The singer came back with better rendition with her original track "Bright Fire." It was a good rendition.
Meghan Linsey of Team Blake: She kicked off for the finale night with her original track "Change My Mind" and it was a beautiful song and rendition. Her duet performance ith coach Blake Shelton was Aretha Franklin's "Freeway of Love." Sadly it turned out to be an ordinary rendition and some may consider it as a disaster. The singer returned much stronger with Percy Sledge's "When a Man Loves a Woman." She put up a solid performance with right dose of emotion, power and melody.
Sawyer Fredericks of Team Pharrell: His performance with coach Pharrell Williams was Seals & Croft's "Summer Breeze." It was a good rendition but not very impressive. However, things were not the same when he performed his original single "Please" (written by Ray LaMontagne). It was a wonderful rendition and could help him win the title this season. He further consolidated his position with his performance of Neil Young's "Old Man." It was a great rendition.
Joshua Davis of Team Adam: He sang his original track "The Workingman's Hymn" and it was a good performance. His second song was Leonard Cohen's "Hallelujah." It was decent performance but many will think that Adam Levine shouldn't have chosen this over-played-out song in the first place as comparison with past performers is bound to be there. His third song was Paul Simon's "Diamonds on the Soles of Her Shoes" with his coach Adam Levine. It was another decent rendition but not very impressive.
Going by their performances on Monday, Sawyer Fredericks seems to have an upper hand over Meghan Linsey, Koryn Hawthorne, and Joshua Davis following his solid performance on Monday. Will he be declared winner of "The Voice" season 8? You will come to know tonight.
"The Voice" US Season 8 winner will be announced tonight. The results episode will be telecast on NBC Television at 8:00 pm EST (6.30 am IST, Wednesday) and it will be live streamed online on NBC's official website.