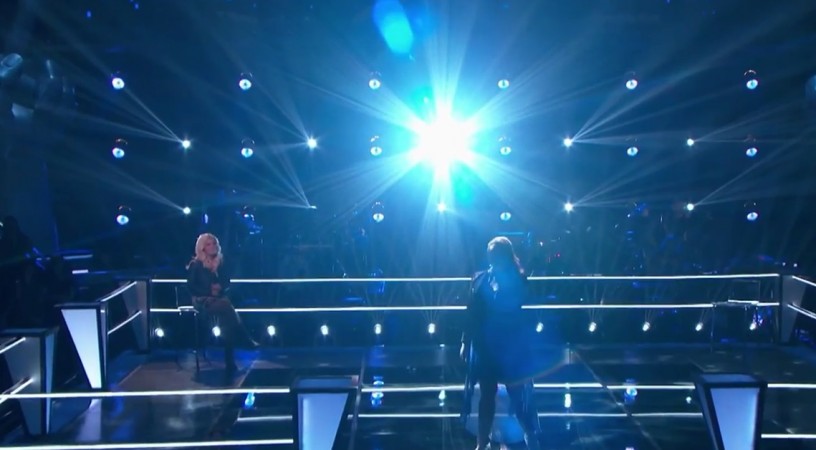 "The Voice" USA Season 7 Knockout Rounds came to an end on Monday with the remaining seven pairs hitting the stage to impress the coaches - Blake Shelton, Gwen Stefani, Pharrell Williams and Adam Levine – with the hope of progressing to Live Playoffs. However, it didn't end without some shocking results, as some of the favourite contestants were sent home.
The Knockout Rounds 3 of "The Voice" Season 7 kicked off with Taylor Brashears and Allison Bray from Team Blake taking on each other. Brashears performed "Landslide" by Fleetwood Mac, while Bray sang "Sin Wagon" by Dixie Chicks. Blake chose Brashears as the winner.
Team Gwen's Ryan Sill and Beth Spangler were the next to hit the stage. Sill sang "Miss Independent" by Ne-Yo while Spangler rendered "Too Little Too Late" by JoJo. Stefani declared Sill as the winner of the round.
Team Pherrell's Jean Kelley and Menlik Zergabachew took on each other in the Knockout Rounds. Kelley sang "Chandelier" by Sia, while Zergabachew performed "Could You be Loved" by Bob Marley. Williams declared Kelly as the winner.
Chris Jamison and Blessing Offor from Team Adam were the next to take the stage. Jamison sang "(Sittin on) the Dock of the Bay" by Otis Redding, while Blessing Offor sang "Your Body Is a Wonderland" by John Mayer. Adam Levine chose Jamison as the winner. Then, Matt McAndrew was pitted against Rebekah Samarin. McAndrew took on the song, "Drops of Jupiter" by Train, while Samarin rendered "You Give Me Something" by James Morrison. Adam chose McAndrew.
Reagan James and Grant Ganzer of Team Blake were the next to take the stage. James performed "Hit 'Em Up Style" by Blu Cantrell, while Ganzer sang "Apologize" by One Republic. Blake chose james.
The last pair to perform was Anita Antoinette and Craig Wayne Boyd. Antoinette sang "Rude" by Magic, while Boyd performed "Can't You See" by Marshall Tucker Band. Coach Gwen chose Antoinette, while Blake stole Boyed.